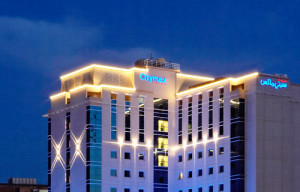 Citymax Hotels, the hospitality division of the UAE's Landmark Group, has leveraged Aruba Networks' wireless infrastructure to establish ubiquitous Wi-Fi networks in its Al Barsha and Bur Dubai properties.
Thanks to the deployment, hotel guests now have high-speed Internet access through the entire premises of the two hotels – including elevators and basement parking lots.
Explaining the brand's decision to overhaul its wireless infrastructure, Amit Kanchan, Head of IT, Landmark Hospitality said, "Today, we summarise our customers' primary requirements with three Bs – Bed, Breakfast and Bandwidth. When guests enter our hotel, they don't want a welcome drink, they want to connect immediately. We have therefore had to adapt our business and focus on our Wi-Fi offering."
Kanchan's primary objective was to provide ubiquitous access across each property and enable guests to transition seamlessly between Access Points (APs) without any noticeable change in performance – thus allowing them to roam throughout the hotel without losing internet connectivity.
The team decided on a barbell strategy, to address the pressing short term challenges while also accommodating for future requirements.
Supported by Aruba's implementation partner, CADD Emirates, Citymax Hotels opted for an 802.11n solution from Aruba Network which could provide 600Mbps throughput and coverage to a large number of guest devices.
Aruba 103 Series Access Points were selected as the primary APs for the deployment, and an Aruba 7200 Series Mobility Controller was also deployed to manage authentication, encryption, VPN connections, IPv4 and IPv6 services and deliver other advanced security features.
With its new wireless infrastructure in place, Citymax hotels has begun to witness a steady return on investment.
The hotel offers a basic 512Kbps service free of charge, with bandwidth capping facilitated by the Aruba Network Mobility Controller.
In addition, the hotel has been able to monetise the network by extending a premium wireless connectivity option with faster speeds and greater bandwidth as a charged service.
Guests connect via a single SSID thereby eliminating the need to repeatedly search for and log into the Wi-Fi network as they move around the hotel.
The system has also been designed to provide the same level of service throughout the premises.
"Today we can proudly say that Citymax hotels is a very contemporary technology enabled hotel which is ready to welcome the guests of today and the future," said Russel Sharpe, COO, Citymax Hotels. "We intend to move on to the next stage wherein we will be able to use our admin technologies, staff technologies and guest facing technologies on this Wi-Fi infrastructure. We also intend to use VoIP for our internal communications and see Aruba's solution as being a long term investment."