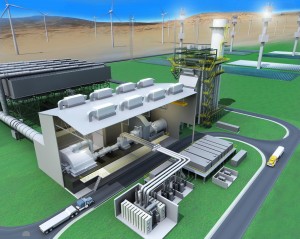 GE will be showcasing its latest energy technologies at the 2012 POWER-GEN Middle East conference in Qatar this week.
Under the banner 'Cleaner, Flexible, More Efficient', it will showcase some of its advanced technology solutions, including the new FlexEfficiency 50 combined cycle power plant, which integrates renewables with natural gas to produce cleaner, more affordable and reliable power.
GE will also showcase its newest innovation, the GETS100 coalescer, which is a gas turbine filtration product that delivers improved plant performance and lower maintenance costs to customers in the Middle East operating power generation facilities in harsh environments.
"Achieving energy efficiency is key to driving sustainable development. We take pride in the advanced technology solutions that we continue to deliver to our public and private customers enabling them to meet the growing demand for energy, which is critical to achieving growth in Qatar, and the region," said Joseph Anis, president and CEO at GE Energy ME.
This year's POWER-GEN Middle East conference is held under the patronage of His Excellency Dr. Mohamed bin Saleh Al-Sada, Minister of Energy and Industry, Qatar, and will take place at the Qatar National Convention Center, Doha, for three days starting tomorrow.
The conference theme of 'Changing Power Solutions in Challenging Times' highlights the importance of achieving sustainability and efficiency in power generation to meet growing power needs.