Honeywell  has introduced Outcome Based Service, a new cloud-enabled building management service aimed at making the region's facilities greener, safer and more productive. The service helps prioritise building maintenance activities where they can have the most impact on overall building performance.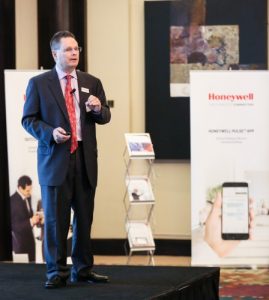 Combining advanced automation and data analytics, Outcome Based Service enables Honeywell service engineers to assess and scrutinise building assets around the clock, promoting the identification of anomalies and misconfigurations earlier than traditional maintenance and helping save time and money. The new platform was introduced to customers and partners at an invitation-only event hosted in Dubai earlier this month, titled "Connected Services and Security Integration Showcase".
According to Honeywell, smart buildings are the fundamental building blocks of a smart city, and the announcement of Outcome Based Service is the latest addition to Honeywell Building Solutions' growing Connected Services portfolio. The portfolio leverages the connectivity of buildings in the Middle East to improve how they operate and the experiences they offer for those who visit and work within them. In addition, the Connected Services portfolio — which draws from the collective power of IoT technologies, cloud applications and the deep domain experience of Honeywell's service engineers —also includes the Honeywell Vector Occupant app for improving occupant experiences and Honeywell Pulse for Connected Buildings, an app that forges a real-time link between facility and engineering staff and their buildings to help boost productivity and performance.
By leveraging the Internet of Things (IoT) the cloud-based service will continue supporting the development of smarter buildings. Customers will be able to witness how this platform, combined with other connected service offerings, provides a highly effective solution for driving efficiency in the region. The service taps building connectivity and sensors with the goal of ensuring that building equipment is performing at its best. Results from early pilot deployments have shown it can help organizations cut energy spend while cutting reactive service calls.
"Building operators across the Middle East are under pressure to make facilities more green, safe and productive, all while reducing operating costs. To achieve this, building and facility managers in the region are utilizing IoT to their advantage. IoT is creating huge opportunities for operators by enabling valuable data analysis for more insightful and accurate decision making," said Norm Gilsdorf, president for Honeywell's Middle East, Russia, Turkey and Central Asia regions. "It's important that we continue to inform decision makers on the opportunities presented by IoT and how they can continue to develop smarter buildings through the use of cloud technology."