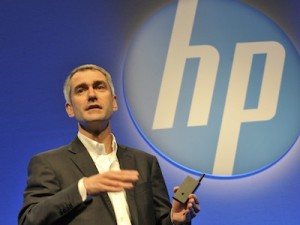 HP is actively working to increase its revenue from the software side of the business, and one of the ways it sees this happening is by interlinking more closely its  infrastructure partners with its software partners.
"Hardware and software working together can make for a powerful combination. We have enjoyed tremendous growth last year, and we are just getting started," said Bill Veghte, chief strategy officer and executive VP of HP Software at the keynote session of the third day of HP's Global Partner conference in Las Vegas.
Veghte outlined the key customer challenges of the day as application transformation, converged infrastructure, enterprise security and compliance, information optimisation and hybrid delivery. HP is able to fulfil customer needs across this spectrum with the offering of an IT performance suite.
"The performance suite enables you to serve and work, for and with a business, and that is the opportunity. Our approach is comprehensive, connected and flexible," said Veghte.
Apart from sheer product capability, HP is betting on its partners working more closely together to drive future revenues for its software. In order to enable this sharing of information, and to offer a better way for partnerships to form, the company has launched HP Interchange – a group on LinkedIn that is meant to bring together HP Converged Infrastructure partners and HP Software partners to share information, leads and even sell and implement on projects together.
The company is also introducing a promotional incentive for financial year 2012 to drive more interlinking between partners.
"HP is putting in $5 million to accelerate growth with converged infrastructure partners over the next six months. Partnerships will get a 5% rebate on the licence sale of any net new software lead that closes. HP Software will also set aside an addition 5% in an investment fund for converged infrastructure partners to invest in HP software," said Hayley Tabor, VP for worldwide partnerships and field excellence.
According to her, these incentives are meant to help partners work together more often, and realise the benefits of a software sale, which leads to a higher revenue base from the delivery of related services.
"The market opportunity is huge across servers ($50 billion), storage ($35 billion) and networking ($30 billion), combined with HP software. Partners can also choose their practices across application development, operations, storage or security. Working together, partners have the ability to tap into higher revenues and larger profit margins," Veghte concluded.
Sathya Mithra Ashok is reporting live from the HP GPC 2012 conference in Las Vegas. Follow www.twitter.com/computernewsme for live updates, and check www.cnmeonline.com for stories from the floor.