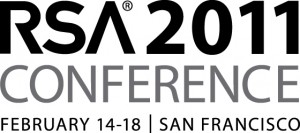 By Valeria Camerino
On the notes of a security-inspired version of Bon Jovi's "Living on a prayer", the 20th edition of RSA 2011 Security conference kicked off yesterday at San Francisco Moscone Centre, with an opening keynote speech by Art Coviello, RSA chairman and EMC VP.
This year's conference would be different from the previous years, Coviello said.
Not only because 2011 marks RSA conference's 20th anniversary, but also because the security vendor intends to prove that a secure cloud can and soon will exist.
"Last year my keynote was about the promise. This year it's about the proof," he argued.
"The promise is that you can achieve safety in the cloud. The promise is that we can fundamentally do security differently and better. The proof comes when, by leveraging virtualisation technology, we demonstrate better control and visibility, the key elements of trust, in cloud environments."
Coviello went as far as saying that organisations are already moving to the cloud in spite of security fears and uncertainty to respond to clients' demand for built-in, automated, risk-based and adaptive security.
Within this context, to accelerate cloud computing uptake, he announced the launch of RSA Cloud Trust Authority, a set of cloud-based services designed to facilitate secure and compliant relationships among organisations and cloud service providers.
By enabling visibility and control over identities, information and infrastructure, the RSA Cloud Trust Authority will foster the trust necessary for organisations to adopt cloud computing for mission-critical applications and sensitive information, Coviello explained.
In addition to that, RSA's parent company, EMC, announced the EMC Cloud Advisory Service with Cloud Optimiser from EMC Consulting, which, according to the vendor, helps customers create a balanced cloud strategy extending from legacy architectures through cloud service providers at the lowest cost while achieving trust objectives.
"Surveys show that lack of trust in cloud computing is slowing broader adoption of cloud services," said Coviello. "While cloud computing offers tremendous benefits in cost and agility, it breaks down some of the traditional means of ensuring visibility and control of infrastructure and information. Forcing enterprises to develop trusted relationships individually with each cloud service provider they wish to use is cumbersome and will not scale. New thinking in security and compliance is required to provide a future in which organizations can consume services from a wide variety of cloud service providers on-demand and for all their application needs."
Valeria Camerino is reporting live from the RSA Conference 2011 in San Francisco.