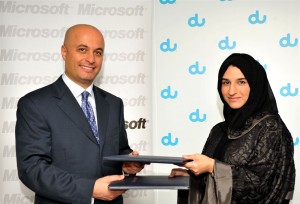 Microsoft Gulf, in partnership with du, yesterday revealed the five projects in the UAE which have qualified for the UAE Country Finals of Microsoft's premier technology competition, Imagine Cup 2012.
The projects selected include solutions that tackle challenges like piracy, healthcare and waste management submitted by university students from the UAE.
Now in its tenth year, Microsoft's Imagine Cup called upon students across the UAE and Gulf to rise to the challenge and "imagine a world where technology helps solve the toughest problems facing us today."
The competition, supported by du, ASUS and Wamda, is open to students between the age of 16 and 26, encouraging them to use "their creative and technical abilities to make a positive impact on society."
The first place winning team in the Software Design category in the UAE Country Finals on April 23rd 2012 will advance to participate in the Imagine Cup worldwide finals which will be held in Sydney, Australia in July 2012.
"We are impressed with the entries received thus far for the Imagine Cup competition in the UAE. The notion of making the world a better place is at the heart of Imagine Cup and it provides a platform for the brightest young minds across UAE to express their creativity and passion for technology by coming up with new solutions for the challenges we face today in the world," said Samer Abu-Ltaif, regional GM at Microsoft Gulf.
"The teams have exhibited tremendous passion and innovation and I wish them the very best for the future. Our focus on Imagine Cup reflects Microsoft's continued commitment in supporting young talent to drive future prosperity in the UAE," he added.
The five projects shortlisted from the United Arab Emirates are:
Reutilizer: a mobile application and website used by individuals to tackle waste management and biofuels.  The website is used by small restaurants to avoid waste and uses a mapping algorithm which groups nearby individuals and stores in order to optimize pickups and make routes more efficient.
Absolute Security: secures any soft or digital product against piracy by using advanced encryption.
Cloud Scrubs: a unified Electronic Medical Record system which offers a common, usable and readable format for EMRs.
Sleep Apnea Monitor (SAM): phone application that aims to diagnose and monitor sleep apnea patients, through utilizing some of the phone's built-in features, in a cost-effective and more comfortable manner.
Sparkka: an application that answers medical queries and dispenses localized medical advice to patients and seekers of medical advice via its rich and easy-to-use interface.