Cisco and the UAE Ministry of Interior (MoI) have announced the commencement of the third and final stage of deployment of the Cisco Prime Collaboration which will connect all of the Ministry's employees across the seven emirates.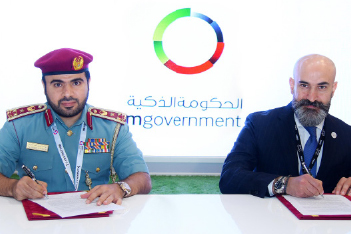 The deployment forms part of MoI's efforts to contribute to the UAE Vision 2021, which aims for the UAE to be the safest place in the world by leveraging the power of technology and innovation.
At GITEX, MoI and Cisco also signed a memorandum of understanding (MoU) for strategic cooperation which focuses on technology innovation to enable the Ministry to stay at the forefront of technological updates and to harness new trends.
The MoU also covers the provision of training and continuous education opportunities to MoI employees on Cisco's latest technologies.
The project was initiated nearly two years ago to gradually migrate from the current legacy PBX IP phone system to a new platform.
"We are playing our part by contributing to the vision of making the UAE one of the safest and greatest countries in the world by 2021 and ensuring the UAE government is a leader when it comes to excellence and innovation," said Hussain Ahmad Al Harithi, director-general of Electronics and Telecommunications Services, Ministry of Interior. "The UAE Ministry of Interior places great emphasis on using world-class infrastructure and technology to provide efficient and transparent government services around the clock to exceed the expectation of citizens and residents and improve the quality of life in the country."
The MoI has offices hosting thousands of users that makes communications challenging, costly and complicated.
"Cisco is honoured to be working closely with the UAE's Ministry of Interior to deliver its connectivity and communication objectives on this significant project, making the MoI our largest collaboration reference in the UAE," said Shukri Eid, managing director, east region, Cisco Middle East. "With the implementation of Cisco Prime Collaboration, we are delivering a simplified, unified management of collaboration networks that helps MoI move away from a previous distributed model that was costly and difficult to manage to a centralised, simple to manage architecture. The adoption of such advanced technology delivers a significantly reduced total cost of ownership and ensures the Ministry is a forerunner in embracing technology and digital transformation."
The Cisco solution will enable MoI employees to connect to their regular meetings with external government entities and individuals directly through video conferencing. The solution converges voice, video, and data collaboration around a shared IP-based infrastructure. It also provides key performance indicators, enabling MoI to analyse trends for capacity planning, resource optimisation, and quality of service.