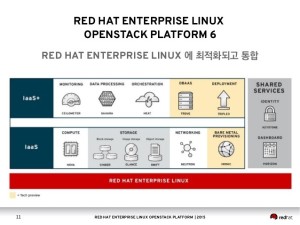 Red Hat today announced the general availability of its Enterprise Linux OpenStack Platform 6, featuring updates designed to serve as the foundation for building OpenStack-powered clouds for enterprise businesses.
Updates have been made to Red Hat's graphical installer and management tools.
Enterprise Linux OpenStack Platform 6 is based on the OpenStack Juno release and includes several new features including IPv6 support – for both provider and tenant networks – which enables customers to assign IPv6 addresses across physical networks and OpenStack Networking (Neutron) virtual routers in stateless and stateful modes.
The Neutron High Availability feature offers Neutron agents in 'active-active' mode for high availability configuration, and the Single root I/O virtualisation (SR-IOV) networking enables users to execute network switching directly on their hardware, bypassing the hypervisor and virtual switch levels.
"Red Hat Enterprise Linux OpenStack Platform 6 delivers enterprise-grade and telco-ready features, fueled by deep engagements with hundreds of customers and partners across the globe, to enable an open cloud infrastructure," said Radhesh Balakrishnan, General Manager, OpenStack, Red Hat. "Backed by our robust partner ecosystem, this release can enable a wider variety of enterprises and cloud service providers to quickly transition to an OpenStack-powered cloud infrastructure."