ALE, operating under the Alcatel-Lucent Enterprise brand, has announced collaboration with Schneider Electric, which will see the two companies conduct demonstrations on next-generation technology solutions at the Schneider Electric hospitality showroom in Dubai Silicon Oasis.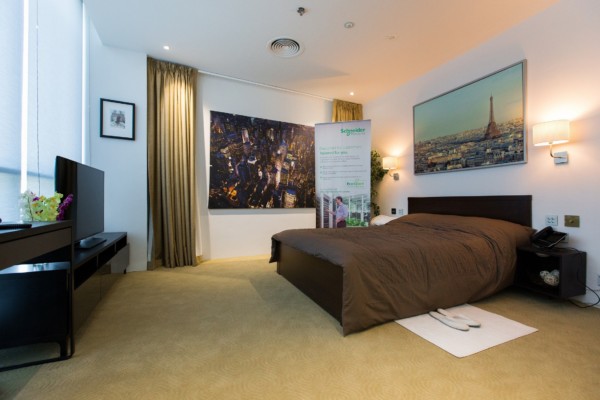 Schneider Electric launched the hospitality showroom at its regional headquarters in Dubai to host customers and showcase its hospitality offering. At the showroom, the brand will demonstrate how hotels can implement smart solutions that offer guests' superior comfort while achieving high profitability, flexibility, and energy efficiency.
Schneider Electric's guestroom management solutions drive greater hotel efficiency and savings, whilst improving guest experience. The Schneider solutions use a combination of presence detectors and door contacts to automatically detect whenever a room is unoccupied to make adjustments for repairs of room conditions while guests are away and quickly restore settings prior to their return.
Jean-Baptiste Plagne, Vice President, Eco Buildings Business Unit, Schneider Electric Gulf Countries, said, "The hospitality industry requires technology that not only delivers powerful solutions for guests to create personalised experiences, but also provides positive business outcomes and cost-efficiency for the hotels. Together, Alcatel-Lucent Enterprise and Schneider Electric solutions are able to offer a comprehensive technology portfolio of products and solutions that can be adapted to the hotel's requirements and will offer an experience that is unmatched."
Alcatel-Lucent Enterprise's range of offerings specific to the hospitality industry are also on display at the showroom, and includes communications and networking solutions that can be implemented via the cloud or on-premise.
Xavier Mongin, Regional Director, Hospitality, Middle East and SE Africa, ALE, said, "As the hospitality industry grows at a tremendous speed in the UAE and the wider region, with a recent report citing 54,000 hotels rooms to open by 2020, technology will play a pivotal role in ensuring guest satisfaction remains high. We are excited to have a one-stop shop for hospitality customers, alongside Schneider Electric in the Gulf region, to showcase an innovative concept that positively benefit both hotel and their guests."