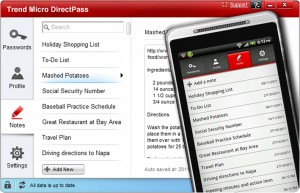 Trend Micro yesterday announced a new online tool designed to fight the growing rate of identity theft by simplifying and securing the log-in process for users.
Trend Micro DirectPass manages all passwords and login IDs in one secure location, automatically filling personal information into web forms accurately and safely.
It offers online security through a safe browsing experience, protecting users from a broad range of network, keylogging and Trojan-based attacks, while blocking malicious browser plug-ins that can compromise system security.
The software features cloud synchronisation technology that enables users to access sensitive sites from any device across a number of mobile operating platforms.
DirectPass monitors thousands of web sites to assess multi-layer login patterns and keep client software safe from the latest threats. It also automatically generates secure passwords that users don't have to remember and securely stores confidential data related to an online account.
"There is always the chance that someone can get hold of your information without you knowing", said Rik Ferguson, director of security research and communication at Trend Micro.
"DirectPass offers consumers an extra layer of security against ID fraud when accessing sensitive online sites such as banks while removing the headache of juggling multiple passwords," he added.