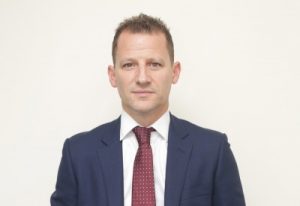 Nathan Clements, MD, Exclusive Networks, elaborates on how the firm has sustained high growths and shares GITEX plans.
Global cloud and cybersecurity value-added distributor, Exclusive Networks is geared up to participate at GITEX Technology Week, taking place from 14th to 18th next month.
 Headquartered in Europe, the distributor aims to accelerate market entry and growth for innovative cybersecurity and cloud technologies in the Middle East region.
[For more stories about the upcoming GITEX Technology Week subscribe to our newsletters. ]
 Nathan Clements, MD, Exclusive Networks, says, "This makes us the go-to-choice for vendors and reseller partners. Our business model of a single touch and multiple markets specialist distributor, is unique and effective. We combine specialist value-added technical and marketing support, with the volume and reach of a global distributor. Reseller partners around the world rely upon us to boost their business opportunities and achieve new revenues from the changing technology landscape.
 "Exclusive Networks continually challenges traditional distribution models, redefining value and creating differentiation."
 As the regional channel business strives to keep up with the evolving trends in the market, Exclusive Networks has been able to maintain a sustainable growth.
 Clements adds, "It's easy to say this growth has come from our existing vendors and also the addition of new vendors and services. But in parallel to this, we also have a strong and highly motivated team, which has allowed us to consistently deliver good growth.
 "We have worked hard and have been successful in making Exclusive Networks a place where people aspire to work, and once here all of our team are constantly trained, and developed so they can be the best in their fields. Our vendors and our channel partners appreciate and understand the value of our team and enjoy working with them."
 According to the MD, GITEX is one of the most important platforms for the firm as it enables them to showcase cloud and cybersecurity solutions to a massive audience across five days.
 "The past two years has seen Exclusive Networks Middle East rapidly evolve and adapt so we can remain relevant to our vendors and our customer base. We have been focused on adding new vendors and setting up a new, highly passionate and energetic team, to work towards the group's growth objectives," Clements adds.
 This year the distributor will be officially launching Exclusive Group's first Cyber and Cloud super centre.
 The MD explains that the firm's ideology revolves around conveying the message that it is a "proven and specialised distributor not just in the security realm but also cloud."
 He adds, "In the past few months, we have been training our partners on cloud technologies, in addition to the usual security workshops we host. We will also be launching our Cloud Training Centre, which enables us to deliver authorised and approved cloud training to technical and sales teams across the region."
 Over the last few quarters, we have seen the regional distributor diversifying and growing its portfolio, which will be a major highlight for this year's technology exhibition,
 "There are around 15 vendors we are actively working with as of today. Some of our new relationships with vendors will be formally launched at GITEX 2018," Clements says.
 Currently, Exclusive Networks boasts vendors such as Nutanix, Rubrik, Fortinet, F5, SentinelOne, Gigamon, Gemalto, Infoblox, Skybox, Ivanti, FireEye, Exabeam, Cloudian, Pure Storage and Mellanox in its portfolio.
  He adds, "We're never complacent, we live by the saying – if you do the same things, you get the same results – so we meet regularly with our vendors and our partners and always look for ways to challenge ourselves, so we are constantly improving and evolving."