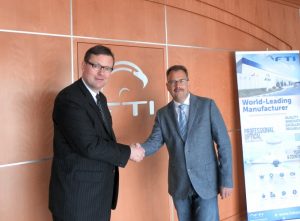 Falcon Technologies International (FTI), an optical media storage specialist, has signed an exclusive agreement with Verbatim, the storage media giant, owned by Mitsubishi Chemical Media, to distribute Verbatim products in the countries of Bahrain, Iran, Iraq, Lebanon, Kuwait, Oman, Qatar, Saudi Arabia, and the United Arab Emirates.
This agreement comes after several years of mutual collaboration between the two companies, and allows FTI to distribute the full range of Verbatim products as well as products from Freecom, a brand also owned by Mitsubishi Chemical Media that specialises in high-end external SSDs and hard drives. The deal was finalised and signed during the recent FTI Customer Seminar 2017, which was hosted in Ras Al Khaimah (UAE) last month and was attended by many leading players within the global optical media industry.
FTI's CEO Michael Gutowski said, "FTI are both honoured and excited to have reached an agreement with Verbatim to exclusively distribute their brands within the Middle East. Our cooperation over recent years has been beneficial for both parties and has given us insight into the mutual emphasis and care that both our organisations place on innovation and quality, so we feel there is a strong synergy of values between FTI and Verbatim. We very much look forward to building upon our partnership and further developing the business footprint of both FTI and Verbatim within the Middle East".
"As the world's leading optical storage brand, we have felt that there is a substantial opportunity to gain additional market share in what is a highly dynamic region. By partnering with FTI, we believe that the combination of our product innovation and FTI reputation for quality will be a new powerful force in the region, delivering unprecedented levels of customer service and availability – not previously seen before for the Verbatim brand," said Gary Milner, VP Sales and Marketing, Verbatim.