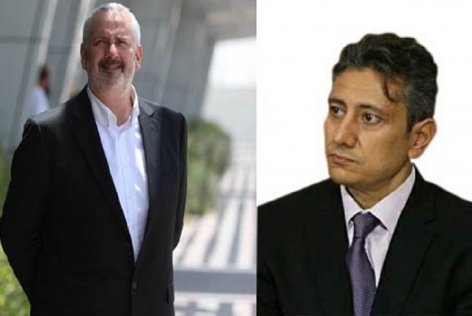 Bob Aoun(R), Regional Sales Director Middle East & North Africa at Poly & Steve Lockie (L), Group Managing Director at Westcon-Comstor Middle East, discuss technology and market trends for 2021.  
The year 2020 has been full of challenges and organisations across the globe have been pushed to invest in their IT infrastructure. How has Poly been supporting the evolving needs of the customer?   
Bob Aoun: Given the role our headsets and communications portfolio play in enabling individuals to work seamlessly from any location, our products and services have seen a huge increase in demand this year. In order to address the special needs of the pandemic, we implemented enhanced safety precautions at our facilities and actively took steps to ensure continuity of supply to meet the heightened customer demand. In addition, we also worked on strengthening our existing relationships with our channel partners and IT providers to help our customers move forward with the deployment of new endpoint technologies.  
What are some of the key learnings from the pandemic that you would like to share? 
Steve Lockie: COVID-19 has resulted in widespread concern and economic hardship for consumers, businesses and communities across the globe. The situation around COVID-19 has caused a lot of disruption but it has also created new market opportunities specially in the IT industry. The need for remote working has led to a surge in requirements especially for Unified Communications and Security Solutions. Being has been the key mantra that has helped organisations to not only survive but thrive in the new normal. One of the key learnings for all organisations has been to maintain business resiliency by making the right investments. 
Being one of the only few distributors in the region to have maintained a full functional supply chain through the entire period of lockdown, we were able to assist our vendors and partners in ensuring supply of infrastructure for critical projects including public sector, specially healthcare. Also, a big priority for us like most organisations has been to maintain healthy cash flow in the business by keeping quality credit checks in place. 
 Our focus on digital distribution and the investments we have made into our digital capabilities over the past years have helped us conduct business with our partners with almost no disruption. As most of our partners have been working remotely, we have been creating more awareness for them to take leverage of our digital platforms such as PartnerView which allows them to access and manage all quotes, renewals, order tracking and history, and RMA submission with the click of a button. 
There has been an exponential increase in the requirements for voice and video solutions during the ongoing pandemic. Do you foresee organisations continuing to invest in these solutions once the pandemic is over?   
Bob Aoun: Over the coming months, we'll see traditional company offices become places for human-first connections and empowering ideating, with a choice of spaces for employers to collaborate, think, create or simply check in with others. But in order to achieve this, companies will need to continue investing in voice and video solutions that create a great experience for every worker in each of these workspaces.  
 Videoconferencing bars with built-in native software experiences, particularly Zoom and Microsoft Teams, will play a key role in the development of collaboration spaces in offices. The integration of cloud-based services directly into hardware will also ensure every worker has a consistent meeting experience.  
 As home working is embraced in the long-term, companies will also need to consider not only investing in voice and video solutions for collaborative workspaces, but for the professional home office. It is no longer sufficient to provide workers with the bare minimum of a laptop with an integrated webcam and microphone. Whatever type of meetings workers attend, their voice delivery is a critical element for audio and video meetings and both user comfort and far-end participant experiences need to be considered. High quality home set-ups include professional headsets with high-end audio and active noise cancelling and HD video conferencing cameras.   
How do you see FY2021 from a distribution perspective? 
Steve Lockie: Customer needs will continue to evolve in the new normal and our vendors will have to continue innovating to support these evolving needs. Distributors will be required to keep innovating in order to support the partners and the vendors as they in turn adapt to support the end users. Being digitally enabled as a distributor is the key whether it is by investing into e-commerce platforms or whether it is being able to do events/ trainings remotely. We have received some outstanding feedback on how our value–added services like Marketing as a Service (MaaS) have helped the partners in creating demand during the challenging times. We firmly believe that these value–added services will continue to get even more relevant to the partners than ever as they adapt to an evolving market.  
 What are your key strategic focus areas for the next year?   
Bob Aoun: The fine line between "consumer" and "prosumer" will continue to blur in 2021. People will continue to work from home or adopt more of a hybrid working approach. The use of technology across our personal and professional lives will result in acute demand for headsets, webcams, videoconferencing bars and speakerphones to suit individual preferences for comfort, features and aesthetics, and Poly is ensuring it can provide communication and collaboration solutions to suit everyone. 
Do you see any shift from traditional business models to a new normal? 
Steve Lockie: The consumer demand patterns have been shifting as companies are being required to continuously adapt to new and uncertain market conditions. The small business segment seems to be the most impacted due to the pandemic but based on historical data it is also generally the segment to bounce back at the fastest rate once market disruptions have settled. The focus on Unified commutations and security solutions will continue to grow.  
We see a lot of business happening through GSI/GDS accounts. Our Global Deployment Solutions (GDS) team has been working with some regional and global telco's and extending its expertise on some huge multi-site projects across the region. We have been making continuous investments into our GDS team to enhance their capabilities. 
 With organisations using various collaboration tools instead of one standard platform, how is Poly positioned to provide interoperability with other IT communication vendors?   
Bob Aoun: Our service portfolio consists of a range of solutions that can easily connect with other collaboration tools, like Microsoft Teams and Zoom. Our cloud-based video service RealConnect, for example, provides users with a full collaboration experience by enabling video interoperability with Microsoft Teams without adding any complexity. Users can quickly and easily connect their videoconferencing systems to either Microsoft Teams or Skype for business meetings. 
 Earlier this year, Poly announced that it now has the largest portfolio of Microsoft Teams certified headsets available — offering greater flexibility and choice with more than 20 of our headsets and personal speakerphones certified for Teams. Our latest portfolio of certified devices — including the Voyager 4200 Office Series and Voyager 5200 Office Series headsets — also has a dedicated Teams button that allows users to instantly invoke their Teams meeting as well as receive alerts and notifications. 
 In addition, our Poly Studio X Family and Poly G7500 recently became the first Zoom Rooms appliances to receive Zoom certification. These videoconferencing devices are fully managed via Zoom Device Management (ZDM) and deliver a streamlined out-of-the-box experience that meet Zoom's standards for audio and video quality. Our collective portfolio of Zoom certified devices makes it easy for users to collaborate from anywhere, with friction-free meetings that customers and IT managers expect. 
 What according to you are the next growth areas in the voice and video segment for the resellers? 
  Bob Aoun: Cloud remains one of the biggest opportunities for channel businesses and its role has become more important than ever following a year of remote and hybrid working. The adoption of videoconferencing has risen dramatically, with the migration of video infrastructure into the cloud a big driver of this adoption.  
 Cloud technologies are not only more accessible to resellers, but to customers too. The devices themselves are becoming more and more versatile, while platforms like Teams and Zoom are used by millions. Given this explosion in demand, the devices that add the most value will be platform agnostic, allowing users to seamlessly move between different platforms almost instantaneously. With so many consumers using so many platforms, the ability to accommodate the preference of your customer without changing your hardware saves both time and money.