Silmi Khanfir, Director of Cloud and XaaS-Middle East & Africa at Mindware, tells Anita Joseph, Editor, Reseller ME, about how the pandemic has been a learning experience and how Mindware has major plans in store for 2022.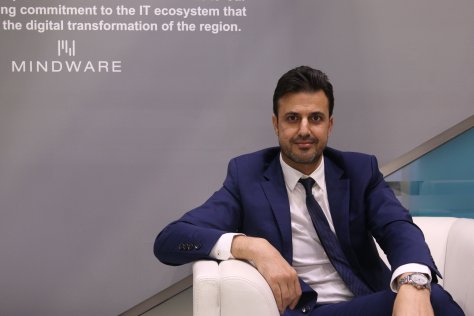 The pandemic has been a learning experience, says Silmi Khanfir. "Therefore, it's a pleasure to be back at GITEX with a stronger portfolio, taking advantage of the lessons that we learnt during the crisis. We realised that there a lot of solutions that go in the direction of more security and business continuity-solutions that allow customers and business partners to have faster connectivity, continuous accessibility and acceptable performance because they are working remotely. This hybrid workplace concept forced us to focus on other solutions and emerge stronger this year."
According to him, the technologies that will drive growth next year will focus on how to avoid sudden, unexpected situations in future. They will be centred around business continuity and sustainability-how businesses can make sure that their applications are up and running even during emergencies and unexpected crisis situations-how can businesses provide their teams with a seamless online working environment that allows them to collaborate, meet and interact virtually and access business applications from anywhere, how can they help business partners and clients move faster or accelerate their cloud/digital transformation.
"These are not new topics, but the pandemic brought them to the foreground and accelerated conversations around them," Khanfir says. "So, it's clear that there is a necessity to digitalise faster and move a lot faster to the cloud. The pandemic was a kind of proof-of-concept for many customers that, for example, migrating applications to the cloud, works. Pre-pandemic, a lot of customers were reluctant about the idea of the cloud and they were thinking in a very traditional manner. Now, they are seeing several customers implementing digital transformation successfully and realising that clients and end-users are looking for cloud-based solutions, so they are more confident and encouraged to do the same."
He also points out that pandemics and crisis situations like these very often come with deep learnings. "A lot of vendors at this point need our help as distributor, to make the channel aware of the need to move from the costly and inflexible traditional models to the subscription and consumption-based business. So, this is what we see as a huge trend. Another relevant trend is that everything you used to have in your data centre, can now be provided as a service. So we don't need it permanently and locally, we can outsource it or buy it as a service and pay only what we need and use. This is what we call 'Everything-as-a-Service'-all these services allow customers and partners to overcome sudden, unforeseen situations like the pandemic."
So, how are partners coping post the pandemic? "We learnt from the pandemic how to sustain our business and we are sharing these best practices with our partners and advising them about how to transform their businesses to be sustainable for the future and to move away from traditional solutions and become more flexible and agile. This is what end-users want and business partners must follow the trend and help them with transformation," Khanfir says.
That's not all: Mindware has major plans in store for 2022.
"There are four new aspects that we are announcing at GITEX and which we intend to focus on in 2022: we have signed on a couple of new vendors, new hybrid cloud providers and also we have enriched our marketplace with new ISVs that are part of our cloud ecosystem and for which we are announcing an attractive program, including enablement, marketing and incentives to support them in their cloud transformation journey leveraging Microsoft Azure. We are also announcing a new refreshed offering of professional services from consultancy, to implementation to migration to optimisation of cloud environments-this is what we are adding to our portfolio of services. We are announcing as well, a new support centre to help our business partners address issues that their end-users have, so that they can provide an end-to-end support structure. The next important things is our geo expansion in Africa. This year, we merged three distributors from the MIDIS group into our Mindware business since we have a larger region to cover, additional countries and we will be physically present in four countries in Africa, so that's going to be one of our key focus areas," he adds.