With the global business landscape becoming increasingly volatile and digital transformation on the ascent, the need for expert insight and futuristic vision becomes imperative. Anita Joseph, editor, Security Middle East, caught up with senior executives at Protiviti Member Firm for the Middle East Region, a global business consulting firm, to understand how they help businesses address challenges and opportunities in key areas such as technology, digital transformation, business process improvement, risk management, compliance, transaction advisory and internal audit.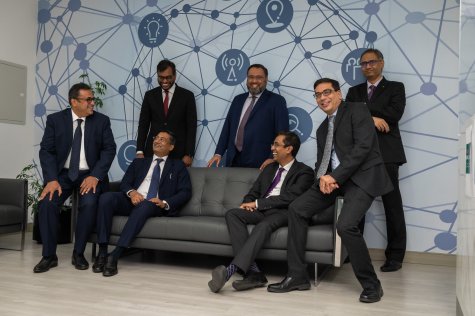 As digital transformation gathers steam and the business landscape becomes increasingly complex – full of rapidly shifting consumer preferences and new operating models, the need for the right advice and timely insights are becoming more important than ever. Unfortunately, the plethora of solutions and technologies available today have made it difficult to see in the fog, and the relevant expertise remain elusive. This is where Protiviti steps in, with its extensive insights, tailored approach, and unparalleled collaboration ecosystem. In fact, it's innovation-centric processes, futuristic vision and values of inclusion have made it a force to reckon within the Middle East region.  The firm has been part of many strategic consulting engagements in the region over the last decade-and-a-half, successfully delivering on engagements across diverse industries, and supporting businesses achieve their technology adoption and digital transformation objectives. Globally, Protiviti was named to the 2021 Fortune 100 Best Companies to Work For® list and has served more than 60 percent of Fortune 1000® and 35 percent of Fortune Global 500® companies. The firm also works with smaller, growing companies, including those looking to go public, as well as with government agencies.  
 "Protiviti is built on values of inclusion and diversity, and we are highly motivated by this purpose," says Arindam De, deputy CEO, Protiviti Member Firm for the Middle East Region. "This means that Protiviti not only leverages the local talent in this region but also harnesses the potential of the youth and contributes to their growth. Due to the high standards of education in the region, we're seeing more and more technology-oriented resources adding enormous value to organisations and to their entire digital transformation journey," he adds.  
The firm has been involved in several key projects in the region where it is working closely with stakeholders to enable digital services for local communities. "One recent example is where we have delivered on a new digital platform allowing subscribers to view and manage their shipments and digital communication online for federal government organisations," says Ranjan Sinha, managing director, leading the technology consulting practice in the region. "We're also working in the areas of stitching and operating fintech platforms and recently we became operators for a supply chain financing platform that facilitates seamless transition and adoption for organisations in the region to minimise discrepancies in financial instruments and provide assurance on delivery and project completions." 
That's not all: Protiviti is also working on projects, helping government organisations with issues such as data privacy and security to make sure that the journey towards digital, and in some cases cloud, is well managed. "We are collaborating with many of our long-time global partners and alliances in product space to offer these services to our clients in the region. We are also working on other initiatives around digital learning experience projects with various government organisations," Ranjan adds. 
For Protiviti, its partner ecosystem is equally vital to the long-term success and futuristic strategies of the firm. As Adib Ibrahim, managing director – Technology Strategy & Operations points out, "Alliances and partnerships help us offer full set of solutions to our clients across technology and digital domains. We work with alliance partners to jointly develop go-to-market strategies for clients who are looking for both consulting and implementation services." Elaborating further on the partnership ecosystem Adib adds: "We have built alliances across technology domains, ranging from digital experience and automation, integrations, business apps including ERPs and CRMs, technology operations, security, privacy and cloud by embedding technology automation."  
The firm has devised an "agile" approach to building up infrastructure and resource capabilities to address client demands in a rapidly changing technology landscape. Since the pandemic, cloud adoption in the region has been growing at a fast pace. To cater to this niche requirement of organisations and to support their transformation initiatives, Protiviti offers a wide gamut of services, intended to assist organisations to decipher the complexity of cloud.  
"We have taken an agile and hybrid approach for addressing this market need, whilst constantly assessing and evolving our service delivery models to meet client expectations," points out Mohammed Arshad, managing director for Emerging Technology Solutions, "Whilst we are building capacities of our own with the right infrastructure and resource capabilities to scale up, we are also working with our key alliances and partners to source required capabilities on need basis, including cloud solutions. Further, we are also addressing the expectations of each country in our region of operations to build infrastructure and resource capabilities, catering to the demand, in alignment with local regulatory requirements." 
What's interesting here is the approach that Protiviti has developed towards combining technology adoption with its expertise in risk & compliance, as one of the leaders in Financial Service space. For this purpose, the firm has joined hands with several FinTech, RegTech and SupTech solutioning players to deliver end-to-end value proposition for clients, in the areas of functional advisory, data management and solution implementation. Ramakrishnan Viswanathan, managing director – FS Technology cites a case in point. "Our collaboration with Monimove, which is a leading supply chain finance solution provider allowing organisations to bring their entire supply chain value stream on a single platform. This not only enables the supply chain finance ecosystem, but also provides the firms with complete visibility across the supply value chain that will enhance overall governance and help them mitigate operational risk."  
As central banks in the GCC region are digitising their supervision function, Protiviti teams are working with regulators to streamline data management and implement RegTech, SupTech solutions, and are looking to collaborate with providers like FNA." 
That's not to say data security and privacy isn't at the top of the firm's agenda. As Niraj Mathur, managing director for Security and Privacy Solutions mentions, "We see a major change in the approach towards security in the past decade, privacy on the other hand has become a major concern for organisations over the past 5 years. The security and privacy concerns are consistently amongst the top concerns of not only CISOs or CIOs but for CEOs and the board members as well. The same has been highlighted in our latest edition of Top Risks Report 2021." 
Protiviti's research findings indicate that security is at the top of every organisation's business agenda today, because of the following factors: 
Huge increase in cybercrime incidents

 
Impact of incidents is tangible and directly to the business i.e. loss of revenue, reputational loss which leads to the need for accountability.

 
Increasing awareness amongst senior management

 
Regulatory Frameworks and cyber security / privacy laws

 
New risks emerge as organisations adopt digitisation, a necessity for most businesses.

 
 "We are in a dynamic environment today where security and privacy cannot be ignored or become an afterthought. A lackluster approach towards security can negatively impact the P&L statements today and organisations could lose their hard-earned profits, due to incidents or pay hefty fines. Organisations have realised cybersecurity risks are not an IT issue, it's a board level concern. At the same time, the attention paid to security and privacy is only expected to increase with more maturity setting in (GCC regulatory laws and focus on compliance) as we move forward," Niraj adds.  
The firm has strongly leveraged its rich experience, stemming from executing complex engagements across diverse client base and industries in the region. It also has market access and coverage to continuously build and enhance large scale delivery centers, capable of delivering onshore/ offshore services or through hybrid models across GCC, India and Egypt.  
While the tech consulting team at Protiviti seems geared up for a strong growth trajectory as it bridges the gap between business needs of its clients and strong portfolio of technology solutions, there is the challenge of talent shortage and domain skill that could be a matter of concern.  
According to Arindam, talent is at times inherent with existing resources, and many a times, is required to be built upon within the organisation through learning and development initiatives. "Although it can be a long journey, it provides assurance that the talented resources of our organisation get the opportunity to pursue fields that they are most inclined towards. Certainly, there are challenges in hiring talent for niche and growing areas of technology such as cloud computing, cyber security etc. However, we tackle it by sourcing the requisite talent from anywhere in the region, at the same time also nurturing our existing resources into these niche areas. Protiviti's consulting portfolio is now ahead of the curve in assisting industries for technology adoption. We consistently assess market needs and also rely on internal and external market intelligence to forecast and meet the diverse needs of the GCC market," he concludes.