Savio Dias, Senior Director – Sales Engineering Avaya International (EMEA & APAC) who was part of the judging panel at the GITEX High Flyer program, tells Anita Joseph, Editor Reseller ME, about how the whole program strengthens the UAE's reputation as an innovation hub and throws light on the huge talent pool available in the region.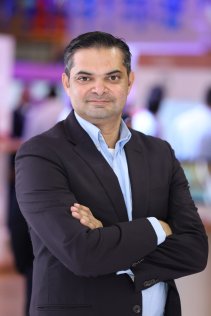 The High Flyers Program is testament to the immense talent and creativity of young minds in the region. According to Savio: "The High Flyers is a great platform. In this process of digital transformation, talent is going to become the greatest hurdle to overcome and the high flyer program is proof that talent exists in abundance. The program started 6 months ago and GITEX was the culmination of it. Again, it is the culmination of one small step but the beginning of a whole new step," he said.
GITEX High Flyer saw 500 of the region's most promising students from 15 top academic institutions from all over- Abu Dhabi, Cairo, Ras Al Khaimah etc-apply to secure one of a hundred internships at leading public and private sector organisations, including Avaya. The selection process tested the students' technical, problem-solving and presentation skills in areas such as education, sustainability, healthcare, mobility and evaluated their teamwork, communication skills and creativity.
"At Avaya, we are focused on nurturing talent and our support of the GITEX High Flyer is a great example of this," Savio said. He added that Avaya's role in the program as a strategic investment in the future of not only Avaya, but the regional technology industry as a whole. "The programme consolidates the UAE's position as a knowledge and innovation hub, and the quality and talent of the young minds here is phenomenal," he pointed out.
The judging criteria consisted of parameters like the idea, the presentation, the feasibility of the idea and how easy it is, to execute the idea. We had about four or five key criteria and it also depended on how well they answered the judges' questions.
Savio said the whole experience was exciting and eye-opening. "It was diverse, it was multicultural and the ideas came from everywhere. The High Flyers was an absolutely amazing program and it just shows how creative and versatile the youth of today are."
GITEX High Flyer is the latest initiative supported by Avaya to develop technology talent around the world. Avaya Academy, launched over three years ago, helps provide a direct progression for new graduates and IT industry newcomers to begin their technology careers. With many current Avaya employees and experts having graduated from the Academy, it has been proven to enhance technical skills and address changing customer demands.