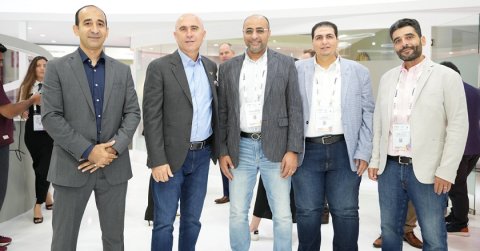 The Magdi Yacoub Heart Foundation, an NGO dedicated to offering free-of-charge medical services to the Egyptian people, has selected Avaya technology to power communications at its new healthcare facility being built in Cairo.
The under-construction Magdi Yacoub Global Heart Centre in Cairo will be an advanced healthcare facility that will triple the number of outpatients that the foundation can serve. Delivering the latest techniques in cardiovascular medical care, the facility will be able to treat up to 12,000 patients annually, enhance the treatment provided to newborns with congenital heart disease, and enable telemedicine that can extend medical support across the continent.
Integrated by Summit Technology Solutions, an Avaya Diamond partner, the Avaya technology being deployed underpins every layer of communication at the new facility. The premise-based stack will deliver seamless collaboration between 1,500 users – including doctors, support staff and administrative staff. Meanwhile, a contact center deployment built on the same platform will enable agents to effectively serve patients across a range of channels.
The scalable and sustainable communications solution spans the entire facility ecosystem. When completed, with direct integration with the facility's health information system, it will streamline internal communications to simplify complex processes, improve care team coordination, and increase patient safety. All backed by world-class security, reliability and performance.
And with enhanced multi-location communications connecting the new facility with the foundation's academy, the Magdi Yacoub Global Heart Centre in Cairo will contribute to upskilling around 1,750 healthcare professionals. Surgery rooms will be linked with lecture halls via video communication, to enable remote demonstrations and live teaching from across the campus.
The solution will also enable the foundation's contact center agents to intelligently communicate with customers calling into its contact center to drive more personalized, effective care across a variety of communications channels.
"In addition to improving access to quality care, the Magdi Yacoub Heart Foundation is integrating research, innovation, and training in a way that is unprecedented in the region. We are proud to be supporting the foundation as it expands its ability to deliver life-saving treatment", said Nidal Abou-Ltaif, SVP – Global Head of Sales, Avaya, and President, Avaya International.
Magda El-Sabee, CEO, Summit Technology Solutions, added: "Our aspiration is to help the Magdi Yacoub Heart Foundation scale up operations to meet the significant, growing demand for cardiovascular treatment by those who need it most. And while the main beneficiaries of this new facility will be Egyptians, the new centre will also be able to accommodate some more of the complex cases from the MENA region, GCC and Africa. This is an exciting, humbling and important project to be a part of".
The announcement on the foundation's partnership with Avaya and Summit Technology Solutions was made at the 2023 edition of GITEX Global. Avaya's presence at GITEX Global comes in partnership with Alcatel-Lucent Enterprise, Imperium Software Technologies, and Sestek.
Visit Avaya at its stand in Zabeel Hall, at Dubai World Trade Centre between October 16 and 20, 2023.