Anita Joseph, Editor, Security Middle East, caught up with Firas Ghanem, Regional Director, Middle East & Pakistan at ThreatQuotient, to learn more about ThreatQ, its open and extensible tool that empowers organisations to accelerate detection and response.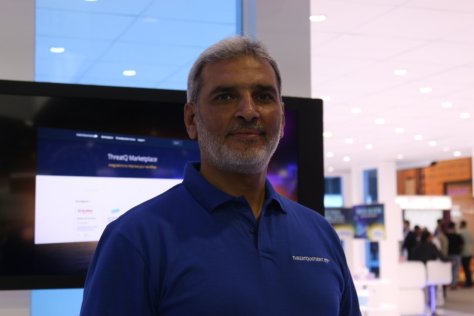 ThreatQuotient, a leading security operations platform innovator, is showcasing ThreatQ, its advanced Threat Intelligence Platform (TIP), at GITEX Technology Week. With ThreatQ, ThreatQuotient will be demonstrating a range of solutions that support data-driven approaches such as Extended Detected and Response (XDR) and Security Orchestration, Automation and Response (SOAR) platforms.
ThreatQ is an open and extensible tool that empowers organisations to automate the intelligence lifecycle, quickly understand threats, make informed decisions, and accelerate detection and response. It supports both standard and custom integrations, with feeds and security systems. ThreatQ also enables data-driven Extended Detection & Response (XDR). Its adaptive data engine imports and aggregates external and internal data, curates and analyses it for decision making and action, and exports a prioritised data flow across the infrastructure. Moreover, ThreatQ's SOAR harmonises disparate systems to orchestrate and automate response.
"At GITEX 2021, we plan to increase the visibility of our ThreatQ platform," said Firas Ghanem, Regional Director, Middle East & Pakistan at ThreatQuotient. "We hope to engage with CISOs and CTI heads from across the region, as well as international visitors, to explain how ThreatQuotient can assist them in enhancing their security operations and CTI practice. GITEX is an important platform for ThreatQuotient; as the Middle East's largest, most anticipated, and influential exhibitions, there is an excellent opportunity to connect with industry professionals, be it with our partners, existing or potential customers, or individual experts."
ThreatQuotient combines human intelligence and automation in a threat-centric platform by integrating an organisation's existing processes and technologies into a single security architecture. With customizable workflows, customer-defined configurations and integrations, ThreatQuotient accelerates and simplifies investigations and collaboration across teams for proactive detection, analysis, and response to threats and data.
ThreatQuotient recently released its report titled State of Cyber Security Automation Adoption in 2021, a new research focused on understanding the importance, challenges and trends facing businesses when it comes to automating their IT security systems. Based on survey results from 250 senior cybersecurity professionals at UK companies employing 2,000+ people from a range of industries, the report determined 98% intend to automate more in the next 12 months, but 41% have a lack of trust in automation's outcomes.
The report surveyed five key vertical markets: central government, defense, critical national infrastructure – energy and utilities, retail and financial services. The research examines what IT security use cases or processes organisations have already automated and what they are planning to automate, as well as budgets, skills, resources, issues around trust, and assesses the overall outlook for IT security automation.