NIDAL OTHMAN, CEO & MAHMOUD NIMER, PRESIDENT at StarLink, speak to Anita Joseph about the company's participation at GITEX and some of the key technologies that will fuel innovations in the future.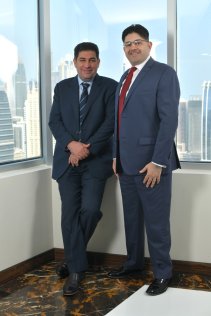 How important is it for your company to participate at GITEX Global 2021, in terms of getting to network face-to-face with your customers and partners? 
An event such as GITEX is a very important global platform to network and engage with our vendors, partners, and customers, to share knowledge, to collaborate and expand together. Especially after the pandemic, it is extremely encouraging to see so much enthusiasm and participation. Gitex is also a forum to showcase the new innovations and technologies that we have. At StarLink, we are proud to not have missed a single Gitex as it is a very strategic event.  Even last year when Gitex was the only and the 1st worldwide technology event which took place after COVID-19, we had the honor to be part of it.
This year, Gitex is focused on AI and cybersecurity, and it is a great opportunity for us to showcase our new technologies and solutions in those domains and the way in which we integrate both domains to provide unique solutions that addresses the needs of the changing market.
What products and solutions will you be showcasing at GITEX Technology Week and in your opinion, what are the key technologies that will fuel new innovations in 2022? 
StarLink as a VAD, we are pioneers in adopting and bringing best-of-breed technologies to this region. This year, we are showcasing technologies that cover three domains: cloud, cybersecurity, our two main domains and intelligent automation, our latest addition.
We have invested in the StarLink Innovation Center as we believe in solution-selling and integrating technologies together to address the customers challenges and needs.  It is also a research center that helps us identify the best technologies in each domain that we cover.
Digital Transformation was accelerated in the last two years which brought the need for availability, efficiency, reliability, accuracy, and security.
I believe that in the future, 1/3rd of the jobs will be done by the systems, 1/3rd by digital workers and rest by humans. At StarLink we believe that Intelligent Automation will bring in advanced technologies to drive innovation in 2022 and beyond. In fact, we have introduced the concept of the digital worker-a blend of multiple leading technologies combined to offer digital workers who can deliver different jobs and functions based on customer need.
No doubt, cybersecurity integrated with Artificial Intelligence will remain the main driver for innovation in the future and it's already here.
A good example of both domains would be adaptive systems and application powered by AI & cybersecurity, where the systems can be customized based on the need and at the same time defend against cyberattacks and prevent any potential threats.
At Gitex we are showcasing many such solutions to encourage our channel community to invest in the future by adopting next generation technologies and solutions.
How do you plan to expand your footprint in the region?
StarLink is a True VAD, we have been in the region for 17 years and today we have an on the ground presence in 20 countries with 400+ employees and 500M USD revenue. We will continue investing in the META region where we already have a strong presence. Also, we've witnessed a robust demand for StarLink's cybersecurity, DC & cloud and IA offerings.  This trend will continue to grow and our plan in the coming years is to expand our on-ground coverage to 30 countries, grow our team to 700+ employees and achieve 1billion USD revenue by 2025.  Our immediate plan in 2022 is to expand our regional footprint further in Africa as we shifted our Africa region HQ Egypt. We're also planning to cover other regions, going forward.
Tell us about StarLink sales go-to market strategy?
StarLink has a unique go-to-market strategy with our two-pronged approach we are very well connected with our customers as well as our extensive partner network across META.  We are an extension of our vendors on the ground, to expand their market share and be a trusted cybersecurity, cloud & IA advisor to our customers and prospects.
Today, at StarLink, we have several sales engines to serve our strategy, such as product management and marketing teams to support our vendors and channel management and inside sales to support our partners and business development managers and presales to support customer engagement.
How important is the role of the channel in your ecosystem?
 The channel plays a vital role in StarLink's ecosystem, and we have different type of partners ranging from specialized partners in certain domains, strategic partners SI and the Global System Integrators (GSI) and our mission is to support them to expand their capabilities and market reach whilst they help address their customer's requirements across different domains.
In addition, StarLink has also introduced a comprehensive channel program called StarLink Choice Program to support our partners grow their business and develop their specialization.