Bejoy George, Managing Director, MediaSys & Hsueh-Li Wang, EMEA BDM, NCBU, GIGABYTE tell Reseller Middle East about their newly forged partnership and what it means for the region.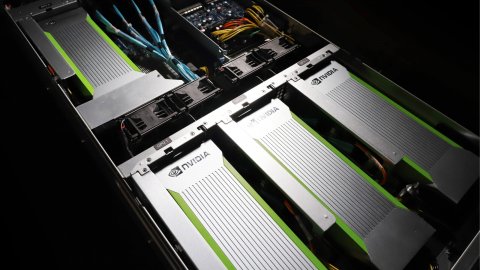 GIGABYTE Technology is a frontrunner in the distribution of computer hardware, known for its innovation-centric approach. Can you tell our readers a little more about your presence here both in the UAE and across the Middle East region?
Bejoy George – MediaSys
Mediasys was formed in 2001 and has two decades of experience within the UAE and Middle East region, providing the world's leading integrated digital content creation tools & solutions to leading players in the broadcast, animation, graphics and architectural design industries. We also support several significant projects with academic institutions and government entities. We pride ourselves in providing total solutions and complete technical consultation & support services in HPC hardware and system integration. 
Hsueh-Li Wang – GIGABYTE
GIGABYTE has been providing server hardware products to the UAE market mainly via distributors who are based outside the region. The end customers are spread across industrial segments such as oil & gas, education, government, AIoT, FSI, FMCG and many others. As of now, GIGABYTE does not have any physical presence in the region and it is planning to expand into the UAE and the KSA with local staff and demo experience centres. For other parts of the Middle East region, GIGABYTE is actively seeking competent channel partners who are willing to benefit from exclusive/ preferential business conditions in exchange for developing a market strategy. The business potential is yet to be leveraged by GIGABYTE. 
GIGABYTE Technology recently entered into a new partnership agreement with solutions provider & distributor Mediasys. What are the primary objectives of the collaboration? 
Bejoy George – MediaSys
We are pleased to enter this new and exciting collaboration agreement with GIGABYTE, especially with the massive growth of AI and the demand for HPC booming in this region. We believe in focusing our strengths and extensive expertise towards the common goal of enhancing customer experience and satisfying the growing demand. This partnership will bring premium sales experience, unique compute solutions, and reliable customer service. We also believe this alliance will lead to key business opportunities and growth for both Gigabyte and Mediasys. GIGABYTE servers are among the best, giving a comprehensive solution in the HPC and AI market and our team is looking forward to some valuable future projects in the region. 
Hsueh-Li Wang – GIGABYTE 
We are seeing fast growth in the region within the HPC, AI, Virtualisation and AIoT business domains, and the key to gaining market share for us is a combination of quick response to projects, total solution proposal and deep understanding in end–use cases via local presence. For this reason, we need a local partner who not only has solid integration experience in server hardware and knows end use cases well, but also has established trusted relations with project decision makers. Most importantly, we want to provide top-tier pre- and after-sales experience to the region's customers, and this is where MediaSys comes into play. MediaSys will be a reliable partner who can respond to stringent service level agreement conditions (e.g., next-business-day, 24/7 response, 4-hour critical service, etc.), provide proof-of-concept hardware tests in their test lab, and promote GIGABYTE total solutions in collaboration with third party hardware and software vendors. 
There has been exponential growth across the region in high-performance computing and AI infrastructure. How are GIGABYTE Technology/Mediasys leveraging their expertise to help  customers and partners manage this shift to make better-informed business decisions? 
Bejoy George – MediaSys 
With our established position in the regional market and wide recognition from customers across various industries for technical consultancy and reliable service and support, we are now partnering with GIGABYTE to bring added value to the region through unique HPC, AI and Virtualisation compute solutions. In order to respond to the rapid growth in demand and development of HPC and AI infrastructure in the region, this partnership will make sure that customers will always receive expert knowledge and information in order to make well-informed purchase decisions. 
Hsueh-Li Wang – GIGABYTE 
HPC compute technologies are constantly evolving and becoming ever more complex, both at the hardware and software levels. This is mainly due to the nature of changing end–use cases, enormous amounts of data involved, and third-party optimisation tools. Customers often find themselves facing several confusing choices when it come to the best solutions, sometimes without any guidance from solution providers or with little expert advice, as this knowledge is split over multiple topics. The partnership between GIGABYTE and MediaSys aims to fill this gap in the customers' decision-making process: we hope to not only present product specifications, but to also fully offer our joint know-how by understanding each use case and the business case behind it. Such approach requires experience in matching the total solution with the customers' workflow and infrastructure, which could be a time-consuming process and even frustrating to customers. To deliver such an approach, GIGABYTE's decades of experience in hardware design and MediaSys's extensive expertise in software applications will be offered to customers to help them make informed decisions. 
Can you tell us more about the Mediasys HPC Test Lab – and also what role GIGABYTE Technology/Mediasys is going to play in terms of helping to provide customers with access to state-of-the-art technologies and proof-of-concept testing? 
Bejoy George – MediaSys 
With timely access to the latest GIGABYTE HPC compute servers and workstations as the lab's building blocks, we aim to support the region's customers with guidance, expertise and the best possible experience to make well-informed purchase decisions. The HPC Test Lab will allow us to provide our customers with consultation services, configuration of lab equipment for case specific end uses, and guidance through a solution validation process. Additionally, we would like our lab to be equipped with a wide range of server models that can address various use cases over time. Our primary commitment is to assist our customers and ultimately help them do what they do best. 
Hsueh-Li Wang – GIGABYTE 
GIGABYTE will provide MediaSys with preferential commercial conditions and timely access to the latest HPC compute technologies, including the latest state-of-the-art NVIDIA GPU, in exchange for MediaSys's effort in bringing their HPC Test Lab to the forefront of the region's market and making the lab experience an essential part of the customers' decision making. The lab shall be equipped with HPC servers, workstations, and edge servers based on CPU and GPGPU compute specifications. MediaSys will be able to offer either remote access to the lab hardware, or provide test hardware delivered at the customer site, if necessary. Some of GIGABYTE's future exclusive solutions and NVIDIA's latest GPU solutions shall also be showcased in MediaSys's HPC Test Lab. NVIDIA GPUs, like the NVIDIA A100, A40, and A6000 bring an outstanding generational jump in performance. NVIDIA's GPU line-up has expanded-the two new GPUs, NVIDIA A30 and NVIDIA A10 Tensor Core-target mainstream enterprises for AI inference, training and HPC, including running the NVIDIA AI Enterprise software suite on virtualised infrastructure. Targeting workstations, the new NVIDIA RTX A5000 and A4000 GPUs are ideal for real-time rendering, AI, VR and compute solutions. 
What are your key customer segments or industry verticals? 
Bejoy George – MediaSys
 Our key customer segments and industries include media & entertainment, architecture, gaming, research & education, telecommunication, oil & gas and government.  
Hsueh-Li Wang – GIGABYTE 
Our key customer segments and industries include higher education and research, financial service institutions, government, oil & gas, transportation & public infrastructure, manufacturing & engineering, biomedical sciences, media & entertainment, cloud service providers, telecommunication, and gaming.