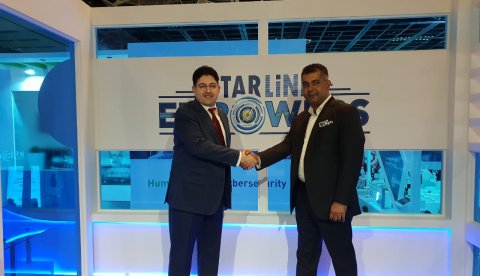 StarLink has announced the signing of a distribution partnership with Seclore.
Seclore is a provider of the industry's first browser-based Rights Management solution, Seclore's Data-Centric Security Platform (DCSP), a first-of-its-kind platform, is designed to give customers an open, integrated and automated Data-Centric Security approach to discover, identify, protect and track sensitive data. The automation and agility of the platform enables organisations to remove the limitations of point solutions while increasing the security of sensitive data. At the core of the Seclore DCSP, is the Seclore Unified Policy Manager, the central engine for orchestrating policy management, identity federation, and usage data consolidation.
This new partnership agreement enables StarLink to add the Seclore DCSP to its portfolio of IT security offerings. StarLink with its extensive channel network will support Seclore expand its market reach and operations across the region.  Moreover, Seclore's integration with Boldon James, one of StarLink's strategic vendors, will facilitate customers with one solution that delivers end-to-end, data-centric security with data classification.  Seclore Data Classification, powered by best-of-breed classification from Boldon James, enables organisations to easily define and apply classification to their documents as they are created and modified.
Mahmoud Nimer, general manager, StarLink, said, "By adopting a Data-Centric security approach, cyber threats become easier to manage and IT security becomes an enabler of future innovation.  StarLink is well positioned to deliver Seclore's solutions through its expert teams and channel reach."
Vishal Gupta, CEO, Seclore, said, "We're excited to launch this strategic, go-to-market partnership with StarLink. As StarLink is the largest and fastest growing value-added distributor in the Middle East, and also represents several of Seclore's strategic technology partners, including Boldon James and Forcepoint, they will be helping us drive Seclore's next phase of growth.
Rohit Oberoi, Seclore's director of channel sales for India and Middle East, said, "StarLink's widely recognised status as a Trusted Security Advisor means that Seclore will be able to significantly expand our reach, leveraging StarLink's impressive sales, pre-sales and professional services expertise to deliver the many benefits of the Seclore Data-Centric Security Platform to customers throughout the region."