On the surface, creating a digital workplace appears simple. After all, it's a matter of providing the right technologies and tools to empower workgroups. But in reality, it is much more complex. It's about capitalising on the relationship between happy, productive employees and customer satisfaction, and implementing technology-driven strategies to nurture both.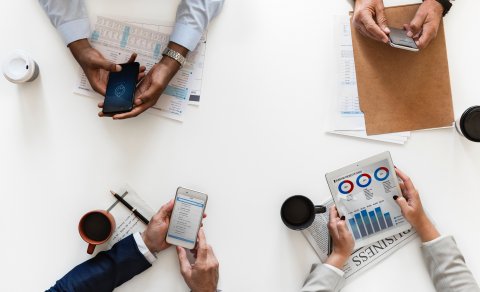 While the concept of digital workplaces is not new, it's finally reached a tipping point and is fast becoming the marketplace differentiator. The message is clear – embrace it and thrive or face obsolescence.
This is good news for channel partners who are armed with an arsenal of solutions that drive adoption.
Let's look at three conversation starters that print partners can use to help solve challenges for businesses undergoing workplace transformations:
1.      The Millennial Workforce
For businesses executing digital workplace initiatives, the main concern should be how technology drives job satisfaction, feelings of accomplishment, and pride in one's work – not which generation they belong to.
As Millennials started moving into the workforce, many organisations became overly focused on pleasing them, but it turns out Millennials seek the same qualities as their older peers, and they're not as tricky to please as many businesses thought. Studies are clear; job satisfaction requirements are not generational.
People of all ages have four basic desires when it comes to work, and these factors are key when deciding to accept an offer, facilitating longevity, and knowing when to leave:
·        Pride in their organisation
·        Ability to maximise one's own job performance
·        Fair treatment
·        Enjoyment
Channel partners are in a perfect position to leverage these facts. Start by educating prospects and customers on the similarities of needs across the entire workforce. Then, show how adoption of the translation app, mobile printing, cloud storage connectivity, and other performance enhancing applications address these needs and increase overall productivity.
2.      Unification of Communication and Connection Channels
A key driver of solution selection for digital workplace transformations is how it will positively impact communication and connectivity within workgroups. Of course, practically every employee has communication capabilities in their pocket, but are those devices equipped with business apps, mobile access to workflows, and the security required to keep the company's data safe?
There must be a balance of convenience for employees and business must-haves in order for digital workforce adoption to be successful. For small to medium-sized businesses as well as larger enterprise organisations, channel partners can offer customised solutions while expertly addressing security challenges.
3.      Talent Acquisitions and Retention
Savvy businesses realise the connection between digital workplace capabilities and the ability to acquire and retain top-notch talent – and they actively develop and execute strategies that further those initiatives. When channel partners demonstrate how devices fit into the talent acquisition and retention puzzle and introduce the idea that apps can be customised to address needs unique to the business, it's a win-win for the organisation as a whole.