Ronald van Loon, CEO, Principal Analyst Intelligent, and a Lenovo partner, has penned an exclusive op-ed for April's edition of CNME, in which he outlines the steps needed to construct a human and data-centred organisation.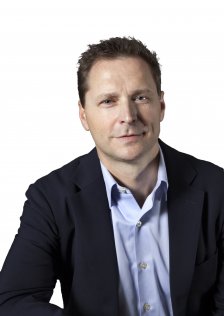 Ronald van Loon is a Lenovo partner, and was invited to participate in their Think Transformation: An experts' guide to becoming 'Data-Centred' campaign, which shines a light on the importance of human involvement in sparking enterprise-wide intelligent transformation and making the most of data's infinite potential – a principle of Ronald's perspective as a digital transformation thought leader.
How to Build a Human & Data-Centred Organisation
"Data is the new gold" is an often-repeated industry phrase intended to illustrate the increasing commoditisation and value of data. But consider a lump of gold; monetarily valuable, yes, but with unrealised potential. Yet in the hands of a master jeweller, its value magnifies as it's combined with other materials, shaped into something entirely new, and repurposed as a treasured family heirloom, or a symbol of wedding vows.
Like any tool, data must be used with purpose to light the fires of change, transformation, and innovation. Yet this depends on who is using it and how it's being used.
People have the power to invoke transformative competitive advantage and growth within their organisation by using data for strategic purposes. But it takes the right leadership, data structure, and skills to bring about the greatest business impact that can set it on a course for future success.
Being data-centric is critical for any future-facing business but being data-centered is the cornerstone to drawing the powerful potential of creativity, innovation, and new opportunities from data through the value of the human perspective.
What's the Role of Leadership in this Process?
Business leaders, executives, and C-Suite are responsible for creating a data-first culture within their organisation that improves digitisation, agility, resilience, and adaptability, which are the new business imperatives of the current times.
As leadership looks to reimagine or rekindle their organisation to accommodate the changes and challenges that emerged from the COVID-19 pandemic, their role as paragons of data has simply become part of the digital agenda. This requires using data for strategic purposes that accelerate intelligent change and innovation.
The best leaders understand that it isn't about finding data that supports their own methods but seeking out data that supports different ways of thought. This line of thought sets an example that sparks trust, transparency, and a true commitment to intelligent change, where everyone in the organisation is accountable and involved in finding the best data solutions.
For example, as data scientists are responsible for analytics, they should be challenged to branch out and communicate across various lines of business. Simultaneously, people who are IT focused must be pushed towards communicating their relationships and understanding of data to data scientists and other business-focused teams.
Leadership sets the example for everyone to follow and should understand that they must involve their entire workforce in the transformation process and bridge the gap between technical and business-oriented people.
This is evident in findings from Lenovo's research, which describes key barriers to transformation being technology related, with 45% of IT project impact across EMEA impeded by legacy IT challenges and 42% attributed to overly complex technologies.
Below are just a few of the important ways that business leaders reinforce an organisation-wide data mindset and approach to data that enables the full value of data to be realised:
Encourage enthusiasm: Leadership sets the tone for data-enthusiasm across the entire business and inspires their teams and departments to use data to work towards a common goal and vision.
Establish data accessibility: Setting a standard for data access that starts making data available based on the metrics and KPIs C-level wants to focus on.
Accelerate data democratisation: Data must be used for everything from daily decision-making to empowering new product development, which requires non-specialists to be able to autonomously analyse data and prevents information bottlenecks.
Data discipline: Responsibility for data should start with leadership, who should ideally be overseeing and enforcing data governance, privacy, and security standards across data collection, storage, and use.
Reward system: Employee efforts and data breakthroughs should be rewarded to reinforce positive behaviours surrounding data and analytics techniques.
How Do You Build a Data-Centred Organisational Structure?
For digital transformation to take hold within an organisation, the right structure needs to be in place, which can be challenging to execute. 52% of IT managers are optimistic about the ability of new technologies to improve productivity, but 26% expect it to compound the complexity of their current infrastructure, according to Lenovo.
IT's role in creating a structure that supports a data-driven organisation is unparalleled because they have a 360° view of how the organisation works via employee workflows, different systems, and transactions. IT should therefore work closely with leadership so that a holistic understanding of how data can be used to support the organisation is incorporated into infrastructure development.
Flexibility is another integral factor in building a data-centred organisation, such as through cloud, for example. Tools like the cloud are key transformation drivers and improve how a company runs and maintains their data infrastructure, platforms, and applications. It also improves real-time data processing that can result in better analytics-based solutions.
Modern, data-centred structures should also be able to support advanced analytics and AI solutions so that they can be effectively operationalised at scale and contribute to data-driven transformation.
What Skill Sets are Needed to Make Everything Work?
Data and technology are the engines of digital transformation, but people will always remain the drivers. As Harvard Business Review asserts, "it's critical to bring the people along with the technology."
Tools and technologies should enhance the roles of employees, only replacing those roles that can be automated, like lower-value, repetitive tasks. Technology and people shouldn't be conflicting opponents, but teammates working together in harmony.
Certain skill sets are an essential component of being data-centred, especially to support new or changing business models and workflows, and the growing technology trends that are becoming staples for intelligent transformation, like robotic process automation (RPA), AI, and data science and analytics.
Successfully scaling data, analytics, and AI projects requires both data science and business-oriented skills, including data literacy, data visualisation, business knowledge, data engineering, and UX design.
Also, as technology is only as good as the people who use it, organisations must pair people with the right technology to get the most out of it. Soft skills are as valuable as hard skills because people who are adaptable and agile can learn how to keep pace with a constantly fluctuating digital workplace and are most likely to learn the right skills for the job.
From Lenovo's experience, incorporating the human element into the roadmap towards intelligent transformation and supporting necessary change involves:
Technological execution: Ensure employee understanding, education, and usability regarding new technologies is deepened via appropriate planning and support. This might be through empowering users with automated, AI-driven self-service tools that include AR tutorials to reduce onboarding challenges.
Fulfilling human potential: IT-enabled opportunities to increase corporate responsibility and sustainability should be infused into the technology-selection criteria.
Inclusive technology: Users should be prioritised to help technology support human workflows and drive productivity and support the desired role the business wants to play in the future.
Humans Provoke Successful Outcomes:
Becoming a data-driven company is a journey, not a destination. While on the surface it may seem like the key to unlocking success with data resides in technology, it's important to look deeper and remember that this is only part of the story.
"Humans ultimately make or break the success of digitisation and modernisation programs", Lenovo affirms, reinforcing the theme of people as the real enablers of business value.
For more information and resources on how to cultivate a more data-centered organisation, be sure to visit Lenovo.