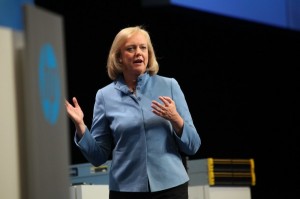 It is no secret that it has been another challenging 12 months for HP, a true veteran of the IT industry.
Meg Whitman became the fourth CEO of HP in just seven years when she took on the role in September 2011, and it has been by no means a smooth ride for her as profits have continued to dip.
"It has been an incredible year for this company," Whitman said as she took the stage at the HP Discover conference in Frankfurt. "There have been a lot of challenges but there have also been a lot of victories."
"Despite what you may have heard, innovation is alive and well at HP. Our culture of great engineering and innovation is a tremendous asset and it's not that we don't have enough innovation at HP, it's that we need to work harder on commercialising that innovation and getting those ideas to market faster. That's one of the things we're focusing on in the next 12 months."
That innovation was evident as HP chose the conference to unveil the most significant updates to its storage portfolio in over 10 years, which it claimed will lead a revolution in data storage.
It attributed this revolution to the use of a modern single storage architecture to provide 'polymorphic simplicity', which is a new concept that enables a single-system architecture to exist in several forms whilst retaining common data services for block, object and file applications.
The first announcement centred on the latest result of HP's acquisition of 3PAR. The new HP 3PAR StoreServ 7000 range was billed as the industry's only midrange quad-controller platform offering tier one storage availability and quality-of-service features at an easy entry price point for organisations.
The second portfolio expansion to be revealed was HP StoreOnce 2000 and 4000 Backup with support for HP StoreOnce Catalyst software.
These new models provide efficient data movement and high-performance deduplication to reduce data protection costs in remote sites and data centres, and perform backup operations up to three times faster at a 35 percent lower cost than the closest competitive system, HP said.
The final product to be unveiled was HP StoreAll Storage, a highly scalable platform for object and file data access, providing a simplified environment for big data retention and cloud storage that reduces the need for additional administrators or hardware.
Vital strategy
However, it is the channel that HP is relying on as it sends these products to market in the hope of resurging the company to former glories.
As a result, HP has spent the last few months investing extensive time on 'Project Dawn', the code name for its vital channel strategy.
This strategy has involved the rigorous training of HP's 800 resellers, which make up the biggest channel of any IT vendor in EMEA, to convert them from EVA to 3PAR and the new midrange platforms.
"We've invested all the time up front in getting them trained, enabled and ready to go, and now we'll try to get all of those guys selling 3PAR as quickly as possible," said Chris Johnson, EMEA VP, HP Storage.
"The reaction is superb – they're super excited. This is something that is pretty disruptive for them to sell and get behind. We're going to be very competitive in the midmarket. We've got the opportunity to refresh both our own and our competitors' base, and win on the new business."
HP also hopes the new range will help it take on the high end market, which is currently dominated by EMC.
"If you imagine that data is growing 50 percent per year, for a lot of the customers that have traditionally bought high end storage, it is becoming absolutely paralysingly expensive for them to do that," Johnson said.
"So we see a lot of the big banks, telcos, retailers and manufacturers – all of the high end customers – starting to look at tier II storage and how they can get some of the applications of tier I to manage on tier II. 3PAR is perfect for that environment, so you'll start to see us positioning midrange storage for the big enterprise customers. This is why we are super excited – it is game changing in the industry."