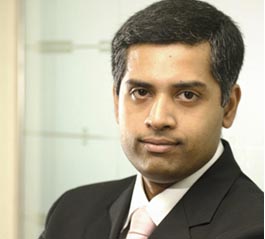 Within first five years of operation, Redington Value has already made its mark in the regional value-added distribution landscape. B Ramkumar, VP of Value Business at Redington Gulf, is now eyeing the top slot with a strategy backed by its geographical footprint and strong network of partners.
So how was 2012 for you?
We are still in an evolutionary phase where we are acquiring new relationships and what we have been trying to establish since inception has now become very mainstream. From an industry point of view, 2012 may not have been the best year but for us, it was one of the best years because we have achieved more than 80% penetration into the markets where we serve. Also, we are probably the only distributor, which has the best positioning in Saudi and the English-speaking Africa.
Do you see this increasing trend of broadline disties getting into value business is really working out, given the fact that dynamics are completely different?
I think it's working out beautifully, and in the past there were questions about whether a broadline distributor can really be a VAD and how effective it can be. In my experience in building this business, this model can work as long as you manage the business separately. Being a VAD within a broadline distributor is a sweet spot because it gives you access to the best of logistics capabilities and infrastructure in every location. For example, we have 32 people in Saudi alone, spread across three locations and we have a huge presence across the Middle East and Africa. And if I compare myself with a pure-play VAD, there is no way you can deploy this kind of infrastructure and manage the overheads. Except for sharing logistics, warehouses and finances, we are a completely independent entity and we sit in separate offices with dedicated marketing, pre-sales and back-office resources. We have built everything from scratch to emerge as one of the top two VADs in the region, and this has happened only because we operate under the Redington brand. If we started as a stand-alone entity, we wouldn't have been to scale and one of the reasons why vendors choose Redington is our reach, diverse channel and the ability to their channel programmes in-country.
How do define value-added distribution, as it often means different things to different people?
Two to three years back, the basic pre-qualification that you required in order to be VAD was resources, pre- and post-sales capabilities. However, in the current context it means two fundamental things – are we able to build a relevant channel for our vendors? Can we provide an end-to-end portfolio for our channel partners and enable them to win business? To get this right, you have to do a lot of work in the back-end; you have to have highly skilled and certified resourced, a robust marketing engine and evangelise their technology.
To give you an example, in the first 6 months of this fiscal year, we have done around 50 unique events for our vendors.  For mainstream vendors such as EMC and Cisco, it's about their proposition and product bundles. But for lot of other new vendors that we have brought to the market, it's all about educating the channel about their technologies.
Do you have any plans to expand the portfolio?
We have five focused business units. One is dedicated to Cisco and EMC, and the other for HP enterprise group. Then we have software and security as one group, convergence and infrastructure, and servers and storage. We have recently signed up five or six new vendors and by the end of this fiscal, it should be around 30 vendors.
Are you looking at vendors who can complement your existing portfolio?
Largely complementary but the beauty of our model is that we can sign up competing vendors as well. For example, we might be working with particular vendor in Saudi and the competitor in Africa. As a VAD, it's our responsibility to provide a certain amount of choice and options to our partners and it's highly unlikely that we will have exclusive contracts. However, we have very mature systems and management practices in terms of how we handle competing vendors internally to ensure there is no conflict of interest.
Within your portfolio, which are the faster growing technologies in terms of demand?
I would say storage and security. The recent breaches in Saudi have opened up new opportunities for the security business. If you look at virtualisation and mobility, the hottest technology trends today, people have paid no attention to security in these areas. We expect regional enterprises to make huge investments in security in the coming years to address the threats.
Do you up-skill your partners and encourage them to specialise?
We do that for a living. A major part of our compensation and rebates with vendors is directly linked to how we are able to skill, certify and bring the channel forward. To sell a product to a non-certified partner is not a viable option, so by default we drive channel enablement through training and certification. Sales enablement is easy but technical enablement is an on-going process.
Services offer a hugely untapped opportunity for partners. How do you enable them to transition towards it?
To be honest, that's an area where there is a lot of work needs to be done, as a  vast majority of resellers are not able to understand the potential or have limitations in terms of investing in services capabilities. For the large and mid-tier partners, services already account for 30-40% of their bottom line but the real value-added reseller channel is missing out on the services opportunity because they are not willing to invest.
Do you the cloud computing paradigm will have an adverse impact on distribution of infrastructure products?
I believe cloud is still hyped up and no one is really making money out of it. The real opportunity is in the private cloud. I can't think of any distributor globally, which has an established go-to-market strategy to address this paradigm or know how to monetise cloud. However, we are exploring opportunities within the infrastructure-as-a-service domain.
You have won a number of awards this year including our Reseller Hot 50…
We were recognised as the best distributor by four different vendors across the Middle East and Africa. This includes Trend Micro, Dell SonicWall, Red Hat and Avaya. We got the Reseller Hot 50 for best pre-sales and I thought this was a nice recognition as it is an unsung community and no one gives them credit for the value they bring to table. What is really special about these awards is that it's not about sales figure but about the value we offer by taking these brands into difficult markets and make it work. Our real USP is our proximity to channel and I believe we are breaking away from the pack in the value-added distribution game.