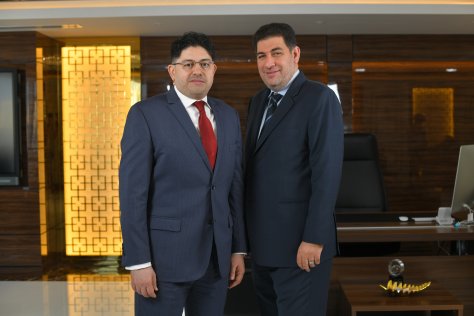 Billion-dirham distributor StarLink's MD Nidal Othman and GM Mahmoud Nimer disclose the secret to its successful and growing operations for over a decade and share strategies for the new year.
When regional value-added distributor StarLink set up its business as a security specialist, it's primary objective was to be the 'link' for its 'star' vendors. 14 years on and the secret to the company's success continues to be its unwavering dedication to its initial mission. Having closed 2018 with total revenues boasting $300 million (over AED 1 billion), the distributor now aims to achieve $500 million by 2020.
The firm's managing director Nidal Othman says, "We have enjoyed an organic growth over the years and not one driven through acquisitions. In fact, we are now the third largest specialised security distributor globally in terms of revenues, a fact confirmed by our vendors."
However, to grow and thrive in the region's economy is no easy task, especially with daunting challenges such as political instability, currency fluctuations, consequences of financial pressures and the dynamic nature of the business.
Othman believes the strategy of not relying solely on a single geographical area or product has helped it to avoid being impacted by circumstances in any one market.
He says, "This way we minimise our risk. Today we manage to generate over 30 percent of our revenues from non-Middle-East markets. Our aim in 2019 is to grow that to 40 percent. This way if there is a slowdown in any one country, we don't come to a standstill. We understand the dynamics of each market and have always explored new verticals."
The distributor has robust business across verticals such as enterprise, financial, telco, government, healthcare and education. It has also recently ventured into the commercial sector.
StarLink's general manager Mahmoud Nimer says, "We have the right platform, investments and resources. We had entered into the commercial vertical in the second half of 2018 and now we are beginning the new year with a big plan."
Nimer explains that the decision to enter the commercial sector came about when the firm's existing vendor partners began to have earmarked offerings for this vertical.
"It is a growth driver for us. We are mainly focusing on the mid-markets when we say commercial sector."
Besides a new vertical, the firm attributes its growth to several other drivers such as loyal customers, new technologies, delivering value-add and so on. Historically, StarLink began operations as a security distributor and over the years earned the title 'trusted security advisor' from its loyal customers. According to Othman, the firm's "direct touch approach" has helped gain the market reputation it has today.
"We excelled in customers' mission-critical projects. Through our expertise, we were able to drive a huge momentum to our reseller partners for projects across telco, financial and government sectors, which were the areas we had begun the operations in. Everything we do with the end-user is fulfilled through our business partners."
He adds that the big focus in terms of technologies will be data centre and cloud during the course of this year.
"We have now become even more strategic for our business partners as we can now provide data centre and cloud offerings along with security."
Nimer points out that the way the firm works with its reseller partners is "unique."
He explains, "We don't rely on fulfilment business alone. We offer our partners opportunities to create incremental business, which is a value-add on their existing relationships with us.
"This also helps to reinforce our partnership with our vendors. They view us as a proactive distributor who has a strong footprint across the region and is close to partners and customers. This plays a key role in our growth story."
Othman adds, "Following our continuous goal of empowering our relationships on all fronts – vendors, partners and customers – have worked well for us. 'StarLink empowers' is the key message and strategy that we are taking ahead into this new year."
The distributor ensures it devises unique and effective initiatives for each of its stakeholders throughout the year.
"For example, in 2018, we launched our marketplace for our partners, which is a powerful tool that allow them to see in real time all their transactions with us. We also launched our cloud offering simultaneously. The way we built the marketplace was unique compared to other marketplaces available in the region," says Nimer.
The distributor has also unveiled 'StarLink Academy', aimed at empowering customers and ensuring they had regular training certifications.
Othman adds, "The third initiative last year was focused on our vendors where we launched 'StarLink Innovation Centre'. Here we act even more so as their extensions and offer customers customised technology integrations with the support of our vendors through our R&D department."
During the course of 2019, resellers and systems integrators can look forward to new activities and announcements from the distributor during its partner summit taking place next month. While end-users can learn about new updates and related initiatives during StarLink's annual IT security roadshow across cities in April.
"We will also be announcing new plans and initiatives for our vendors in the first half of the year," he adds.
The distributor also plans to expand its presence to new countries during early 2019, which will also be another factor driving its growth.
Nimer says, "We are adding new countries to our coverage for 2019, mainly in Africa and Europe. In Q1 we will commence operations in Kenya and France. We have a presence in South Africa, Nigeria, Morocco and Egypt, therefore, we believe Kenyan operations will add immense value. In Europe, we have operations in UK and Netherlands and have recently begun business in Germany."
With a presence in all the Middle Eastern countries, the distributor will now be looking to establish an office in Lebanon.
Othman says, "Every year we add three to four new vendors to our portfolio. We will be strengthening our offerings with new vendors in the cloud and data centre segments during this year. The market can expect big announcements in this regard."