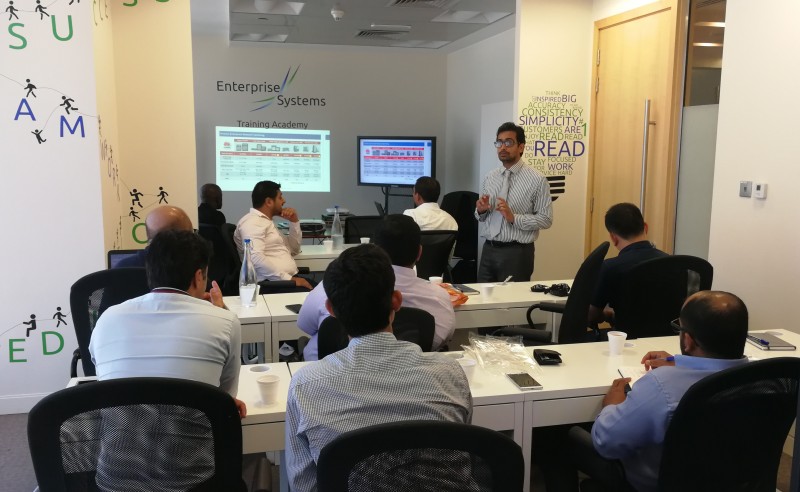 Enterprise Systems' Training Academy offers partners and solutions providers specialist development programmes to deploy its brands efficiently.
Training is a fundamental activity for any organisation of any size. High-level training combines technical and business training, brand awareness, and research and development initiatives.
Enterprise Systems Trading LLC has launched its Training Academy at the start of 2018 to provide specialist training and development programmes for sales, pre-sales and post-sales for all its brands.
Enterprise Systems Academy will offer sales and technical training aimed at front-line staff, managers and leaders, and those responsible for delivering services to end-users. For every level of knowledge and expertise, Enterprise Systems Training Academy can enhance partners' ability to effectively deploy and use the applications and technologies it distribute.
Programmes are available by area of focus and for different skill levels. Courses include rigorous study and hands-on learning, complimented by tests and exams to validate partners' competencies.
The skills and knowledge partners demonstrate through training can help them to make an immediate impact on current projects and help achieve excellence in their focused field.
It will also help employers respond to the changing demands of their clients, who identified knowledge, attitude, behaviour and competence as the factors most likely to affect purchase, re-purchase and recommendations.
The Enterprise Systems Academy will have a clear focus on people development and assessment to recognised standards, helping employers recruit and retain staff with the required skill-sets.
Pouya Parsafar, CEO, Enterprise Systems, said, "End users are increasingly suggesting that the knowledge, attitude and behaviour of the sales/technical person managing them is more important to them than it was five years ago. At the same time, sales people are asking for help, so they are better equipped to handle their customers' demands.
"The launch of Enterprise Systems Academy will provide a much-needed link between what end-users want and what sales/technical teams can offer, providing a skill boost to help organisations deliver what end-users, shareholders and stakeholders expect."
All programmes will be designed to achieve benefits for individuals and their organisations with results driving improved service delivery.  Enterprise Systems Academy programmes will also develop a range of skills including emotional intelligence, effective communication, team-working, training delivery and coaching. Enterprise Systems Training Academy regularly creates exciting incentive programmes tailored to its partners' needs. The firm's incentive programmes are designed to motivate partners' sales, pre-sales and post-sales team in order to secure and deliver solutions from its portfolio of leading vendors.
To oversee the work of the new Academy, Kiarash Azali, COO, said, "Working within the Middle East region, our clients reveal that most of their organisations have difficulty meeting customer service objectives because employees lack the appropriate skills. The launch of our new Enterprise Systems Academy will address this shortfall through close collaboration with employers and will play an integral role ensuring partners' customer service becomes the standard that others will follow.
"Our on-line portal can help monitor partner teams training progress through the year helping partners evaluate their increased success with the training they have completed."
Enterprise Systems Academy can also offer one-on-one training for clients with specific needs, with capability of advanced staging and project simulation.
Enterprise Systems Academy use high quality instructors with high partner and vendor satisfaction score. The firm's tutors have over 15 years of experience working with networks and partners. They bring hands-on experience to students.
Enterprise Systems Academy course schedules are available by visiting training@esystems.com for more information.