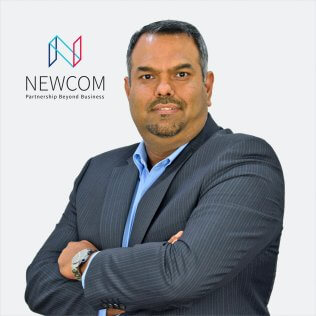 Jai Bhatia, Director, Marketing and Sales, Newcom, tells Anita Joseph how the company continues to be a frontrunner in the highly competitive distribution market. 
What are the different industries you primarily focus on?
Newcom works on a unique model of providing solutions to business groups and enterprises as well as channel markets. We are associated with well-known brands like Logitech, Samsung, Targus, Hyper, Rapoo, J5create, Lindy, and Arozzi, which marks our strong presence in the market for VAD solutions such as video collaboration and Interactive panels. To cater to business solutions for industries like hospitality, education, automotive and more, we work closely with the best System Integrators. When it comes to the channel market, we firmly support and nurture our customers by providing them with all the assistance required from our expert team members. Newcom empowers channel partners in important areas like sales training, building industry expertise, technical training and beyond.
What were the organisation's major business achievements this year?
Our most recent accomplishments include securing Master Distribution for Targus in Africa and a distributorship for Logitech in Oman. As a result, Newcom is beginning to broaden its scope in Oman and other countries, with a very special announcement of our partnership with top brands in the coming months. The last few years have been fruitful for us. At Newcom, we view every difficulty as an opportunity to succeed. Our 18-year-old existence has been a learning process. Since the market is gradually returning to its usual vibrancy, the competition has grown stronger and there is a greater demand for devices. The world has gone digital and grown more tech smart, and here's where Newcom plays an integral role with its philosophy of Partnership beyond Business, by building the bridge between the vendors and channel partners to make sure that the demand in the market is fulfilled.
As a leading distributor in the region, what is your strategy for the Middle East in 2023?
Newcom believes in pushing through the fear, stepping out of the present and peering around the corner toward 2023 and beyond. We have observed the industry's interest in Artificial Intelligence (AI), Augmented Reality (AR) and security solutions has grown exponentially, and we want to explore and expand our partners in these areas. In coming years, a strong digital presence with unique marketing strategies using Geo-fencing data will drive the market. In 2023, Newcom is looking forward to increasing omnichannel selling and expanding our business into the global market. We are also increasing our horizons in different regions and countries in the Middle East and Africa region.
How promising is your partnership for the channel?
Newcom has offered their partners the much-needed foothold and helped increase their customer base. Newcom also offers partners partnership programs that are easy for them to understand and achieve their goals. Our sales team is in constant touch with partners in the field and sell together with them. This strategy helps integrate direct proficiency with the local presence of channel partners for the ultimate win-win.
Can you tell us how Newcom is creating an impact in the VAD market?
Newcom is creating an impact in the VAD market by providing impeccable VAD solutions that include video collaboration and Interactive panels with well-known brands such as Logitech, Samsung and a few more in the pipeline.  We work directly with leading System Integrators to offer best business solutions to different verticals such as hospitality, education, automotive and much more.