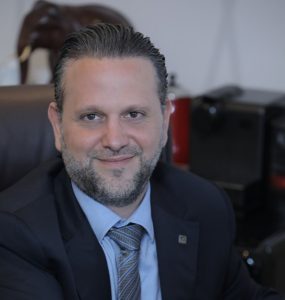 Youssef Fawaz, general manager, Al Rostamani Communications, outlines the firm's strategies to become a partner of choice for IT-as-a-Service (ITaaS).
The industry has been emphasising on the need to offer transformative solutions to enterprise customers in order for them to prosper in the digital era. However, there is also an imminent necessity to evolve internally so that solutions providers are in a better position to advise customers on their digital journey.
Upon his appointment over two years ago, Al Rostamani Communications general manager Youssef Fawaz' primary long-term objective has been to ensure the company becomes one of the leaders and partner of choice for IT-as-a-Service delivery. However, internal transformation has also been a top priority.
He says, "Today customers are seeking business outcomes and do not focus on any one technology. They want comprehensive and effective solutions. Therefore, our vision is to become a reputed player in the IT-as-a-Service (ITaaS) model in the region.
"In the meantime, we have realigned our operations to complement our overall business objectives."
Today the firm boasts a solutions department, created for pre-sales, R&D, new initiatives and technology strategies.
"Our services unit functioned previously in separate silos. Today we have brought it under one umbrella where we cater to multiple verticals and lines of business. Our goal is to work closely with customers to come up with business solutions rather than push specific products."
The heads of the firm's existing divisions – telecom, ICT and infrastructure – now lead sales, solutions and services for all three.
"This is how we are enabling cross department functions and where we will bring in more strengths," he adds.
Over the last two years, the solutions provider has worked on rebranding itself to become a one-stop-shop for its customers. According to Fawaz, with increased automation at the firm's backend over managed processes, efficiency had doubled and executives now had more time to spend with customers.
He explains, "We have enhanced our efficiency levels to not only increase our revenues but also to make it easier for customers to deal with us. As a more integrated firm, we can serve into multiple directions and angles while simultaneously meeting our objectives. We wanted to ensure digital transformation first for ourselves to bring in more efficiency to our clients."
Fawaz says the current challenge for the firm is when amateur players enter the market aggressively for a short-term and are not successful. "We have competitors who we really respect. However, the new comers affect the market perception because they are not professional in their approach to customers.
"This is why we are working more on a blue ocean strategy, where we are differentiating in a niche area by displaying excellent business values."
As customers increasingly demand utility-based business models, Fawaz believes services will lead the future.
"We have introduced new consumption-based business models with our technology partners."
Over the next year, we will see the firm investing more into cloud, IT sourcing, managed services under IT-as-a-Service (ITaaS), security, IoT and artificial intelligence.
"We started our journey in cloud two years ago. We have begun migrating many major clients to the technology. We are playing more into this area as it will be the future."
Fawaz adds that with the financial backing of the 60-year-old Al Rostamani group, Al Rostamani Communications is in a strong position to leverage the market opportunities over the next five decades.
"We are here to stay and have long-term strategies in place. Our aim is to be a partner in its truest sense and not a supplier. In 2018, the market will see us reinforcing our IT-as-a-Service delivery and gain more market share."