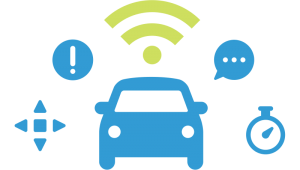 International fleet management application provider, DRVR has selected Tata Communications as its global IoT connectivity partner to help achieve its objective of making Asia's vehicle fleets the smartest and most cost-efficient in the world, the firm said.
Leveraging Tata Communications' mobility solution MOVE, DRVR can convert information collected from vehicles across Thailand, Myanmar, Philippines and Indonesia into actionable insights to help drive efficiencies and improve cost savings through smarter fleet management.
A Forrester report on the Internet of Things states that fleet management and its applications in transportation and logistics across retail and wholesale will be the hottest areas for IoT growth. The Asia Pacific automotive telematics market is expected to reach a value of $15,248 million by 2020 at an estimated CAGR of 11.6 percent during the forecast period.
Vehicles in fleets using DRVR technology have been fitted with Tata Communications' MOVE-IOT Connect SIM technology. The sensors transmit data collected in real-time using Tata Communications' MOVE, which seamlessly connects services using the best available local cellular network, according to the firm. The DRVR application then processes and analyses this data, turning it into actionable intelligence further illustrating fleet performance metrics on any device, mobile or laptop. This means that faster and better informed decisions can be made as fleet managers have a more holistic view of everything that is happening across the fleet, communicating updates in real time; on a highly secure infrastructure ultimately leading to more effective and robust operations on the ground.
David Henderson, co-founder and CEO, DRVR said, "Our partnership with Tata Communications enables us to overcome two major challenges in our quest to create smarter fleets across our entire geographical footprint. First, rather than negotiate multiple contracts with individual service providers, our entire international IoT network is managed through Tata Communications. As a result, we get valuable visibility of data collected across borders so that we can realise the benefits of smarter fleet management. Second, it allows us a holistic view on a singular dashboard allowing us to respond with improved accuracy and eliminating downtime almost entirely."
Anthony Bartolo, chief product officer, Collaboration, Mobility and IoT, Tata Communications, said, "DRVR's ambition is to revolutionise international fleet management by making it smarter, borderless and seamless. With Tata Communications MOVE, DRVR only needs to deal with one service provider that takes care of multiple deployments across international borders. Our product portfolio gives any business with a network of assets better control over their costs, reduces time spent on supplier management and enables actionable data to be derived from operational IoT data. All in all, it is an intuitive solution for improving fleet management operations thereby enhancing business performance and success."
Tata Communications' MOVE service will be rolled out to DRVR customers through its smart fleet management applications. MOVE is part of the company's long-term strategy for its mobility services portfolio and its vision of creating an access and usage agnostic, cross-border mobile experience for people and things. The platform is underpinned by the company's global network and partnerships with several hundred mobile communications service providers globally. The service enables DRVR to roam across different service providers in any of its covered regions without having to negotiate agreements with multiple providers or pay extra fees, said the company.