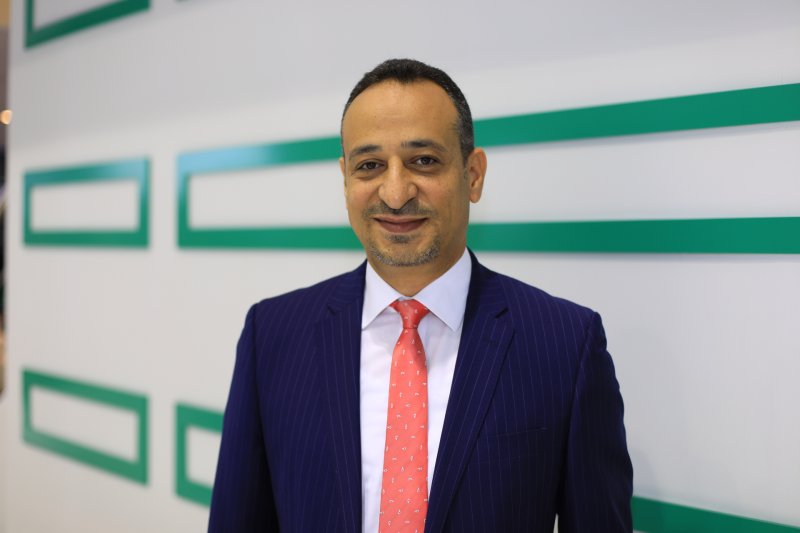 The workplace of the future will be a far cry from what most of us are used to. More collaborative and flexible, the demand for IoT services, cloud, and smart building systems will only increase, and transform the enterprise in the process. Aruba research predicts that 11.2 billion IoT devices will be in smart buildings by 2021, and 34% of them will be installed in commercial general office spaces. "We need to help enterprises to deliver a similar user experience everywhere," Gamal Emara, UAE country manager for Aruba, a Hewlett Packard Enterprise company, says. "Workers need the freedom to work from anywhere. We believe that by 2020, the smart digital workplace will be the de facto approach to building management, safety, security, and end-user technology."
Aruba has been present in the Middle East for over 10 years, and the firm's approach to the market remains enterprise-centric, working across a range of industries including education, healthcare, hospitality and government. The SMB segment is also a high priority for the firm, and it "consistently" on-boards new customers every quarter from this segment.
Aruba has made local investment a top priority to help ensure it can adapt to the huge demands that enterprises and consumers now place on technology. "We're all part of GenMobile," Emara says. "It's nothing to do with age. People now carry three or four devices that download the same content, and they require the same experience across all devices. We're driven  to invest in local engineering and pre-sales resources, as well as educating users, and are are driving courses around our technology that deliver certifications. In order to expand our footprint, investing in Abu Dhabi and the northern emirates is a big priority for us."
Emara believes that demands now placed on regional organisations is forcing them to rethink their approach to networks, the rise in cloud and edge devices throwing a spanner in the works for the enterprise. "Our strategy for cloud is about distribution," he says. "The edge is distributed because it's where your customers, employees and IoT devices are. Meanwhile, the data centre, which used to be this single, monolithic thing, is getting distributed into virtual private cloud infrastructures inside AWS, Azure or Google Cloud, and into SaaS solutions. Applications and data are getting hyper-distributed on the data centre side. The trick is how you bring these two together to enable that digital transformation to happen, and happen really fast." Aruba, Emara believes, has an answer to this challenge. "We want to have the enterprise customer, along with the cloud solution, in one single edge-to-core, core-to-cloud architecture, tied together for our customers," he says.
Emara believes Aruba is now extremely well positioned to help the Middle East's technology end users to overcome the most significant hurdles around delivering a smooth, uninterrupted user experience. "The major challenges faced by CIOs from a network and security perspective centre on the ability to draw insights about the network and its health and to maintain continuous uptime, as well as gaining insights on user behaviour," he says.
While applications have historically run in data centres and were connected over private networks to branch offices, over time there has been a gradual shift to cloud service models. This shift in network traffic sits at the core of Aruba's approach to SD-WAN and the cloud, which is based on distributed networks. A lot of Aruba's customers work in branch office environments, and operate facilities such as retail stores and hotels. "Users are no longer sitting in one place, and are constantly on the move," Emara says. "The network that connects them is also getting more hybrid. How do you create a secure connectivity fabric that brings all of this together in a simple manner? That is the promise of SD-WAN."
The key to the optimum SD-WAN solution, according to Emara, is ensuring it unifies varying components of the network. "Our SD-WAN solution will be integrated with the infrastructure," he says. "The LAN, Wi-Fi, WAN and security all come together. You have the ability to get connected and make it secure, but the uniqueness will be the data we are able to generate from the connected infrastructure, giving customers unique insights."
It is these insights, resulting from data, that build the foundation of "intelligent" networks, according to Emara. "It's not only about using the data for insights for our customers, but turning it around to improve the network and the infrastructure on a self-driving basis," Emara says. "Google, Amazon and others are developing consumer technologies that are learning and self-driving. How can we bring a similar idea to networks, where you can create a network that is self-healing, self-driving and self-securing? The data layer that we're building is going to serve that ability to create a more self-healing, intelligent network as well."
At the core of Aruba's approach is a philosophy driven by openness, which Emara believes is being driven by user behaviour within the enterprise."We see enterprises opening up," he says. "This is happening because of mobility, cloud and IoT. The challenge is how you provide enterprise customers control and visibility into what is actually happening and how they manage the enterprise in the distributed world."
This attitude is also pervasive in Aruba's attitude towards preventing vendor lock-in, which Emara believes is an outdated and unnecessary concept. "Customers hate it," he says. "It used to be used as an excuse to say that a vendor could deliver a solution that works end to end. The reality is you don't need to be locked in to have an assured solution. You can still integrate with APIs and have something great. We're going to take an API-first approach. Every product category that we participate in needs to be best-of-breed, stand on its own two legs and give customers the opportunity to integrate with whatever else they might have."
Aruba recently introduced NetInsight, its AI-based analytics and assurance solution for optimising network performance. NetInsight uses machine learning to continuously monitor networks, delivering insights in the event of anomalies, and then recommends how best to optimise the network for today's mobile-first employees and workplace-critical IoT devices.
From a security point of view, meanwhile, Aruba's IntroSpect User and Entity Behaviour Analytics uses AI-based machine learning to spot changes in user behaviour that often indicate inside attacks that have evaded perimeter defenses, allowing for better hygiene of the network, and early detection of potential attacks.
"Network insights optimise the network environment for a better user experience," Emara says. "They can be around business or security, which gives you a better sense for optimising operations. That saves money and makes your business more intelligent. We're better at doing that with our software-defined architecture than anybody else in the market. When you strip out all the hardware and product names, it's contextual intelligence that delivers business value."
Retail is one such example where Emara believes this kind of insight could be invaluable. He envisages network intelligence adding immense value through gaining an improved understanding of customers. "As a shopper walks around walk, there's a lot of data that a store owner can gain from that," he says. "What route do they take? Which aisles do they frequent, what produce or cereal do they pick up? There's a lot of contextual data there that is currently  thrown away. We provide the ability to collect that data intelligently so we know a lot of information about the stores, the devices around the store, the paths people take and the applications being used inside the store. We collect this data in a privacy-friendly, anonymised fashion and are able to generate insights."
The ability to deliver this insight is central to Aruba's philosophy, and is where Emara believes the firm truly sets itself apart. "We offer wired and wireless infrastructures to our customers and security software that goes on top of it," he says. "The difference is in the intelligence layer. We all sell software. It's about the intelligence we give our customers.At the heart of our architecture is a contextual intelligence that we can create aroundreal-time situations that are happening inside the enterprise."
Emara is hugely optimistic for GITEX Technology Week 2018, where Aruba is set to announce a partnership with a major Middle East service provider that is going to market with a cloud solution from the firm. "We're very committed to GITEX as ever," he says. "It's a great opportunity to meet existing customers, prospects and channel partners. This year, we'll be offering a digital transformation tour on our stand, and well as showcasing our infrastructure, software and security solutions, as well as how we can work with our ecosystem partners, to give them a hands-on experience of how we add value."