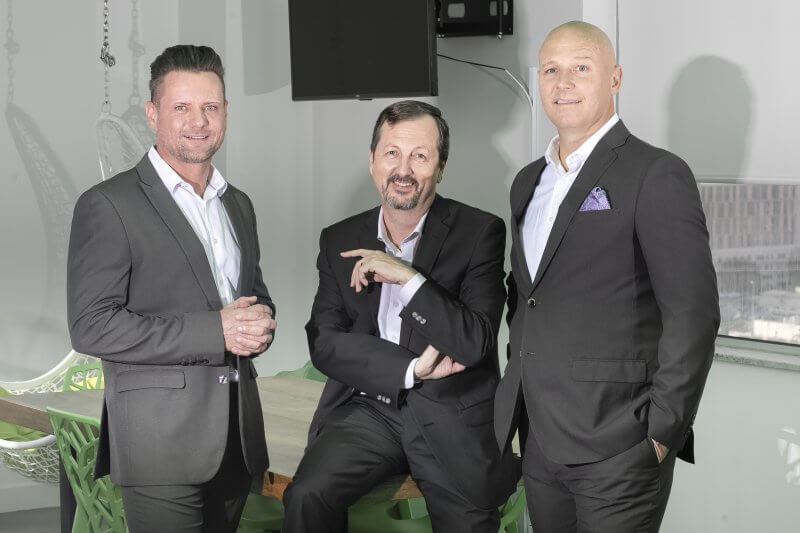 With a planned global growth of $2.2 billion by 2022, senior executives at intelligent data management software vendor Veeam give an insight on the role that the Middle East region plays in achieving this vision.
Veeam Software, global provider of solutions in backup, disaster recovery and intelligent data management software for virtual, physical and multi-cloud infrastructures, has had an impressive journey in the region. The Middle East operations will play a significant part in the company's global revenue goals, which is expected to reach $2.2 billion by 2022.
The software vendor has had a string of milestones over the last year. Boasting over 4500 regional enterprise customers, the company has invested in 55 people in the Middle East alone and inaugurated its new office based in Dubai, almost a year ago.
Veeam's recently appointed regional manager for Middle East and Central Africa Claude Schuck, says, "As a company, we recognise the importance of investing in people and growing the organisation."
He adds, "Our big focus continues to be on enterprises, but we continue to cater for organisations of all sizes. Our basket of offerings has expanded, giving us better functionality and comprehensive capability to cover customers end-to-end."
Founded in 2006, the company has seen a noteworthy growth trajectory and ensured it is keeping up with the dynamic IT landscape. Over the last decade, the firm has led the conversation from basic backup and recovery schemes, availability and now to hyper-availability and a higher level of intelligence. In line with this, the company has introduced a suite of Intelligent Data Management solutions.
Gregg Petersen, regional sales vice president, MEA, Veeam, says, "Our communication to the market now revolves around Intelligent Data Management. We want customers to be proactive with their data management solutions and use the data they've been backing up to innovate with."
According to Petersen, there are five steps on the journey to intelligent data management in the hyper-available enterprise. The first stage is backup where all workloads are backed up and are easily recoverable in the event of any security-related incidents. This is the basic foundation that cannot be skipped. The second stage is aggregation, which is where the business needs to ensure protection and access to data across multiple clouds, to drive digital services and ensure continuous business operations. This is where I'm seeing most businesses I speak with.
"Visibility is the third stage where customers have a complete view across their aggregated workloads of their backed-up infrastructure and the ability to manage data anywhere. At this step, customers will have a clear and unified view of usage and performance issues, and the potential to be proactive rather than reactive."
During the fourth stage of orchestration, customers have the capability to move workloads to the best location for their needs across multi-cloud environments. This allows customers to ensure business continuity and make the optimal use of business resources on hand, overcoming outages, power failure  to prepare and plan for most security-related circumstances.
"Many of our customers are bringing in risk, compliance and governance into the discussion. They need to evaluate if they have all the necessary technologies to orchestrate and stimulate these risks," explains Petersen.
"The fifth and final stage is automation. However, not many customers have reached this stage yet. As a company, we will soon be empowering customers to achieve this level. When we get to automation, data will be able to back itself up, predict issues before they arise, and recover instantly with zero loss of availability if the worst should happen."
Petersen says that once customers reach this stage, they will be able to truly leverage the advantages of automated intelligent data management; getting business value out of the data.
"This is the journey we are focusing on and want to engage our customers with. This will also be the highlight during our discussions at GITEX 2018."
Following a 100-percent two-tier channel-led business model in the region, Veeam has had further noteworthy accomplishments over the last year.
Graham Porter, head of channels, Middle East, Veeam, says, "We are driving customer conversations from backup to availability and now to hyper-availability. This is also momentous for our partner community. Over the course of the past year, we have signed reseller agreements with global leaders HPE, Cisco, NetApp and most recently Lenovo. This opens new revenue avenues for our channel."
The company has been enabling partners through joint sessions, inclusive training and relationship building sessions.
"We have 10 out of 55 Veeam executives in the region covering the channel business. This is how serious we are about our partners' business," says Porter. "On the distribution side, we have been looking at elements such as activation of partners, average deal size and frequency of purchase. We have also designed incentive schemes to motivate partners and distributors."
He adds that the company has been incentivising partners to carry out PoCs, especially as a large portion of these installations turns into revenues.
Globally, the cloud backup software provider believes it is well-poised to cross a billion dollars by the end of this year, clocking $827 million as total bookings revenue for 2017.
Porter says, "The fact that we are getting into more enterprise deals, working closely with our global alliance partners, as well as becoming part of larger solutions with bigger partners, gives us the confidence to achieve this huge objective."
Schuck says the expected investments from Microsoft and Amazon Web Services, where these firms are launching data centres in the Middle East, will further boost the market opportunities.
He says, "Veeam is well-positioned to take advantage of this. I believe the shape of our business will change. What we have to offer in terms of how customers procure and how they use Veeam services will change for the better, in terms of leveraging off the hosted services. That's going to be a massive change for the region."
Customers and partners can look forward to details of the company's new releases and updates at its annual VeeamOn Forum Middle East event on 14th November in Dubai.
"The Middle East market will see a lot of innovation around the cloud space going forward. As big global cloud providers are setting up regional data centres, it will transform the way customers operate and lower entry costs for businesses. Looking ahead to 2019, our roadmap is strong and the market can expect innovations from us around our channel partners, process and our technologies," says Petersen. "Our biggest goal in 2019 is to grow to be the number one player in the Middle East in the cloud and intelligent data management space."