Are CIOs ready to become composers to meet their customers' endlessly evolving needs? According to Avaya's Nidal Abou-Ltaif, there's no alternative; any enterprise that can't become 'composable' will have a difficult time competing in the emerging experience economy. But he has some advice on how to make the transition.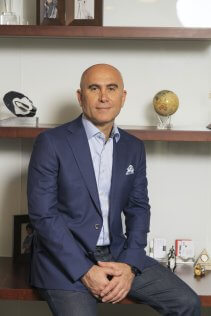 It's time to face the music: customer and employee expectations are skyrocketing. It's little wonder that the organisations running monolithic, glass-ceiling apps are struggling to keep up – in the months it can take to roll out new capabilities through an old-world platform, the customer's preferences may already have changed.
So what's the answer? According to Nidal Abou- Ltaif, President, Avaya International, these monolithic apps are about to hear their swan song, and they'll soon make room for new compositions. He says that the organisations who'll succeed are the ones who adopt a vision of the 'composable enterprise'. Pointing out that the world is never going back to how it was pre-COVID, he explains that the only way for businesses to differentiate themselves today is to focus on the quality of the experiences they provide. And to keep up with ever-shifting demands on the experiences that people want, a new, more agile approach to technology must be pursued.
That means it's time for CIOs to become composers.
To find out how they can do this, we sat down with Abou- Ltaif to understand just want the composable enterprise really means, and how the rise of composable technologies will empower businesses to roll out the services their customers demand as needed.
Over the last 18 months we have experienced many changes in our society, but what the pandemic has really reinforced to all of us is our dependency on technology. As a result of this technology dependence, our expectations have heightened, and consumer demands have evolved. What has been the biggest change in consumer behaviour that you have seen, and will consumer demands continue to evolve so rapidly as new technologies emerge?
After seeing the world struggle with the difficulties of the pandemic for the last 18 months, we're finally seeing light at the end of the tunnel. The world is returning to something resembling normal, but it's got a different flavour now, and consumer and employee expectations are never going back to how they used to be.
That might sound like a challenge, but it's incredibly exciting, as we're seeing huge transformations taking place across almost every business sector. The pandemic showed us there is no one-size fits all model for the new ways of delivering experiences, and enterprises now realise that their customers and employees expect personalised experiences, wherever they are, and however they're choosing to interact. In terms of what that change actually looks like, according to our "Life And Work Beyond 2020" survey, over one third of consumers prefer a mix of ways to engage with the organisations they contact. And 60% of employees support policies that embrace hybrid working. On the flip side of that, we've also conducted research showing that 71% of tech decision makers have reported faster adoption of new technologies in their organisation due to COVID-19. And most companies have seen a shift in technology priorities with 52% increasing investment in collaboration software. So it's fair to say that the demands of customers and employees are driving the wholesale changes we're seeing in technology industry. And the question most businesses now face is how they can keep up with all of this change, while understanding that delivering unforgettably positive experiences is among the most powerful differentiators for businesses today.
We all know that cloud is the future, but many enterprises are struggling to adapt to the demands of cloud transformation across the Middle East region. How big a factor has the issue of large 'legacy estates' been for companies trying to successfully move their IT operations to the cloud, and how can Avaya help them overcome these challenges?
As we mentioned, consumer and employee demands are constantly changing, and businesses are struggling to keep pace using legacy technologies. The experiences that people demand just can't be satisfied with the monolithic, glass-ceiling apps that we had in the pre-cloud world. Experiences need to be 'composed' on the fly, and legacy estates that require months of integration for new service roll-outs won't cut it. With the assumption of cloud as a given, however, experiences can be composed as and when they're required – with deployment times of hours, rather than months. And it's that thinking that we've built into Avaya OneCloud, our AI-powered experience platform, which enables a composable enterprise capable of delivering the 'Total Experience' that customers and employees demand.
Many experts within the IT ecosystem are advocating for the adoption of composable infrastructure to help them transform their IT operations to give them the agility they need for further innovation. From an Avaya perspective, what is your view on composable solutions and why should enterprises adopt it?
The idea of the composable enterprise isn't something that's only coming from an Avaya perspective – it's something that's emerging in real-time in front of us, and it's the way that the industry is going. Just like cloud 15 years ago. Think of it this way: Even today, with massive innovation happening across every sector, technology solutions have their limits. In the large enterprise space, and even in the SME space, too, there's very little chance of buying something off the shelf and having it work exactly as you need it to. You need to integrate it into your systems, and adapt it to your processes. That's no good when you need to create experiences to meet fast-moving demands – you need an open, underlying platform that can help you create what you really need, right when you need it.
With Avaya OneCloud, we're enabling our customers to create the unique experiences they need—in the moment. And this doesn't even mean embracing public cloud wholesale, or having to rip and replace an entire technology stack. It can be a hybrid architecture, extending what you already have, using something out-of- the-box, or a customised, new solution that meets your specific needs. The outcome is what's important, and the outcome is being able to compose what you need right away. And any business that cannot do this in the future will have a very difficult time competing.
Can you tell us more about the concept of a 'Total Experience' mindset and highlight how composable solutions can create this?
From our point of view, Total Experience refers to every experience, for every person, across your entire business. It takes a holistic, AI-driven approach to delivering what your customers and employees want— even before they think to ask— and brings everyone together in a seamless journey.
To find out more about the Composable Enterprise, visit Avaya at GITEX Global. Register here.