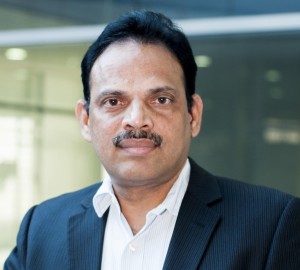 Bulwark Technologies aims to continue its focus of bringing in niche security technologies into the region.
Speaking to Tahawul Tech at GISEC 2017, Jose Thomas, managing director, Bulwark Technologies, says, "We have participated at GISEC since its inception, five years ago. We are displaying our latest vendor partnerships with Lastline, Radware and Mimecast at this year's show.
"As a security IT company, GISEC is an important event for us because there are many security-focused customers who attend the show. We have seen the latest reports on security breaches around the world and our customers depend on us to counter these attacks."
The company boasts of a wide range of vendors such as Sophos, Varonis, Syncplicity and Ara Networks among others.
In 2016, the company separated its value business to be housed under Bulwark Technologies, while Bulwark Distribution had the fast-moving products and partners are enabled to train on the job.
"However," he adds. "Under the value business, we handhold the partner right from the beginning because to implement these solutions are a lot more complicated and time-consuming."
We will see the distributor continuing its focus on adding new products and features to its existing vendors over the second half of the year.
The company has recently opened up an office in Bangalore, India, where it plans to replicate its value business.
Thomas adds, "We will be having regional representations from different Indian cities in this office. The country is also going through digitalisation process and security threats become even more imminent now."
According to the distributor, there is a huge shortage of security skills within the region.
"Getting trained is a big challenge for partners. Timely training is important in order to be up to date with the market. Only then can they position the products and understand customers' pain areas well. Along with our vendors, we provide regular training and certification programmes to enable our partners."
We can expect to see more vendor partnerships from the distributor by the end of this year.
Thomas adds, "We are always committed to data security solutions and we will continue to bring the latest technologies addressing the security concerns of regional customers. This is an on-going focus for us."