The twin sustainability goals of power diversification and efficiency require strengthening capacity and minimising loses. This is something that can be enhanced by digital transformation says Dr Tariq Aslam, Head of MEA, AVEVA.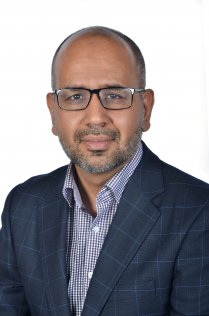 Sustainability objectives are high on power companies' agendas as they look to ensure energy security, hit 'green' targets and meet customer demand, all while protecting and potentially improving their financial outcomes.
With these goals in mind, power firms around the world are undertaking a wide variety of sustainability-focused projects, from expanding their renewable energy capacity through to upgrading existing infrastructure.
Power companies realise the need to diversify their sources and improve efficiencies in order to boost energy security, become more sustainable and stay competitive. Today's forward-thinking industry leaders are therefore already investing heavily in digitalisation; digital transformation is expected to continue growing in the coming years as organisations come to understand that it's more than a slogan.
In truth, it's something they need to foster in order to ensure compliance with the growing number of local, regional, national and international regulations.
Challenges behind digital transformation:
But digital transformation isn't without its own challenges. New tools, technologies and work processes first need to be put in place, and then accepted and adopted by a diverse workforce likely to include employees that aren't digital natives.
To ensure a smooth transition, digitalisation needs to be embraced from the top down. Leaders must cultivate a business-wide openness to change and develop an organisational mindset centered around creating and driving value.
Without bringing together their people, work processes, strategy and technology, digital transformation efforts are likely to fail. This is because digitisation provides possibilities – but needs to be supported by a holistic combination of all aspects of the business, and most importantly the buy-in of employees, in order to succeed.
Although technology is key, digital transformation should not be viewed as a technology project. Instead, it should be seen as a work transformation program, focused on the wider business rather than the IT department.
With this mindset, you're most likely to succeed and see a wide range of benefits from reduced costs and a rise in productivity, through to improvements in safety, reliability and efficiency as staff are empowered with not only the right enabling technologies to transform how they work, but also the right company culture and training.
The power industry's need to find efficiencies:
The need to find efficiencies within the power sector is clear. In the Middle East alone, it's been reported that generating capacity needs to increase by 40% in order to meet 2030's expected electricity demand.
In the European Union (EU), there's still a lot of work to be done in order to hit the European Commission's (EC) target of 53% of Europe's power needs being met by renewable and nuclear.
Digitalisation is essentially replacing manual processes with digital processes, or further upgrading a digital solution with a more advanced technology and is playing a key role in helping power companies to meet these and other challenges.
It does this by providing a 3600 view of plant performance through the use of digital twins –­ real-time digital representations of physical assets – and automated asset performance management (APM) solutions.
These use artificial intelligence (AI) and machine learning (ML) technologies to provide information on how assets are running and predict future behavior. This can be applied to advanced diagnostics, enabling workers to detect potential faults before they occur, or opportunities to further optimise efficiencies.
The insights provided can help reduce operational and maintenance costs by approximately 20%, dramatically reduce fuel costs, significantly improve asset safety, efficiency and reliably, and drive productivity, all by providing fast and accurate data about where and how power is being generated, transmitted and distributed.
Changing the way we work:
With technologies such as AI and ML, digital transformation improves work process efficiencies and accuracy, and minimises waste by automating calculations and the use of data. Amongst other things, this enables businesses to optimise their workforces by freeing up experts from manual tasks to focus on more intensive, business-critical projects.
Just take a look at the benefits ENEL, an international producer and distributer of electricity and gas, gained from its digital transformation.
Having adopted APM to drive the organisation's autonomous plant vision, it was able to remotely monitor its 1,275 renewable assets. This was particularly beneficial when the pandemic hit in 2020, as it enabled staff to pivot overnight to working from home, ensuring the resiliency and continued sustainable delivery of the company's critical services.
Since implementation, ENEL's APM solution has detected more than 220 events early, which prevented failures from occurring, and optimised performance across 23GW of power. "Digitalisation has truly enabled us to maximise returns", says ENEL's Digital Transformation Director Matteo Cantu.
Benefits of digitalisation in the power sector:
Another example comes from US-based Duke Energy, which introduced APM software to centrally monitor its power generation assets. Using strategically placed sensors to send data to AVEVA predictive analytics AI-infused software, Duke can detect equipment failure before it happens – driving better performance and improving uptime.
The company has saved US$50m through reduced failures, including a saving of $30m from a single early catch event.
There remain many challenges for the power industry, but diversification, new technologies and business models continue to point to a positive, more sustainable future. Digital transformation empowers the power sector to engineer smarter, operate better and drive sustainable efficiency, so make the most of the latest technologies available to you.
Technology providers are here to offer guidance, and have the tools to help you along your journey to sustainability and operational excellence. From design and build to operation and maintenance, there's a solution to meet your organisation's bespoke needs and a partner keen to show you the way.