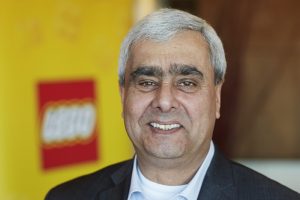 The unbridled joy felt by Lego fans of all ages is clearly not lost on Brand Finance. The business valuation consultant recently named Lego the world's most powerful brand, and that's been a result of delivering some of the world's most iconic toys and models since the company was founded in 1932 in Billund, Denmark.
However, the firm is in the midst of ensuring that its huge success in selling its iconic Bricks and Minifigures now translates into digital offerings for its die-hard fanbase. With a wide appeal that stretches from young children to adult aficionados, a whole host of elements have combined to build Lego into the brand it is today. Chief executive officer Bali Padda believes that the company's strength lies not only in its value as a toy producer, but also in the educational aspects it brings to the table. "The invention of the Lego brick, and the broad, deep play experiences that the Lego system enables is key – how it fosters and enables creativity, imagination and collaboration," he says. "This unique experience is what made me fall in love with the brand."
Although the Lego brand has been crucial in making the company so successful, it is not lost on the firm's leadership that it must continue to think outside the box in order to thrive. "The strategy and mission of the Lego Group remains unchanged," he says. "We want to inspire and develop children – we want to do that by bringing creative Lego experiences to all children all over the world – and to do that we must globalise and continue to innovate. A dedicated focus on ensuring the highest quality and safety in the manufacturing of our product for decades has been crucial, and a continued focus on ensuring product innovation – and the dedication in our design teams to come up with new and exciting models that children find fun and relevant."
Over the last few decades, the leading cities of the GCC – Dubai in particular – have cemented their reputation as being world leaders for leisure and tourism, and this has helped the firm make headway in the region. UAE residents will be aware that Legoland Dubai opened its doors in October 2016, and while Legoland parks are owned and operated by Merlin Entertainments – not the Lego Group itself – they continue to be an important pillar of the company's brand. "I really believe that the Legoland parks everywhere in the world – also in Dubai – provide families and children with wonderful fun experiences in a setting where they are surrounded by the Lego brand and experiencing the potential of the Lego brick," Padda says. "I'm very happy with the opening of the Legoland park in Dubai, as it will allow even more families to have a Lego experience."
Inevitably, the first things that come to mind with Lego are the limitless design combinations created by its iconic Bricks, and broad range of Minifigures. The company, by its very nature, is associated with being one of the most popular physical product producers in the world. While the need to reinforce that reputation remains, Padda is acutely aware that the company has to ensure that its digital products can also deliver a similar impact. "While we firmly believe that the physical Lego brick and hands-on building experience will remain relevant to children in future, we are actively seeking to explore how digitalisation can enhance the physical experience of play," he says.
Padda and Lego are constantly looking for new ways that they can deliver an increasingly immersive experience for younger fans. In a world where children's use of mobile devices has significantly increased, the firm has acknowledged that it needs to find a series of innovative ways to engage with its vast audience.
The Lego Life app has recently been launched in several countries, and is a social media platform that allows children from across the world to "share their passion" for Lego in a "safe" digital environment by customising their own Minifigure. "This is an example of how we can create a fully digital experience that complements the physical Lego experience, and allows children to engage with other children – across cultures and borders," Padda says.
In 2016, meanwhile, Lego launched NEXO Knights, a play experience which allows children to scan Lego brick shields – which are part of the physical Lego set – with the camera of their smart device in order to gain powers in a digital game where users play the characters of the NEXO Knights story. "This is an example of how we work to create a seamless play experience for children – allowing them to build and play in the physical world as well as digitally," Padda says.
Lego Boost, meanwhile, is set to be launched later this year. Boost allows young children to physically build Lego robots that they can easily program afterwards. "This is an example of how we can embed digital experiences in the physical product – while enabling children to learn more about coding in a really fun way," Padda says.
It's not just customer-facing technology that Padda is focusing on to enhance Lego's global appeal. With over 19,000 employees across the globe, there's also a constant need to find new ways to innovate the company's back end technology to deliver smoother operations, which in turn produce better results. "What I plan to bring to the table as CEO is a focus on how we – in order to deliver on our strategy – ensure that our organisation is agile and that we can act with a higher speed than today," he says.
"Just as we explore how digitalisation can enhance the Lego play experience, we are seeking to explore how it can enhance the way we operate as a company. This transcends all areas of the business – from using Big Data, to our employees having access to the applications and devices they need to deliver on their daily work. The end objective is to not only make it a benefit to the individual employee – but also ensure that we are able to deliver on our aspiration to reach all children in the world with a Lego experience."
The company knows that information, above all else, holds the key to delivering a higher standard of products. "We see data as a way we can provide better services to our customers, business partners and consumers," Padda says. He goes on to add that the way this information is managed takes on sacrosanct status for the company. "When it comes to data collection from consumers, we have strict guidelines for how we manage this data in a responsible manner." Lego's Brick is ready for the digital age.