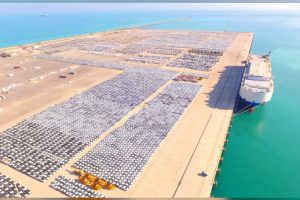 Abu Dhabi Ports, the master developer, operator and manager of commercial and community ports in the emirate, as well as Khalifa Industrial Zone Abu Dhabi (KIZAD), have announced the introduction of a new stream of digital services in the field of import and export operations for RORO and General Cargo, state news agency WAM reported.
The offering will provide customers and stakeholders accessibility to new benefits they can now reap from the automation of operational processes and services through its Maqta Port Community System (PCS).
Abu Dhabi Ports has developed and delivered the PCS in record time, just a year after launching the project. Built in accordance with international standards, the PCS was designed to transform and facilitate trade in Abu Dhabi through advanced smart services.
The new service marks the completion of the digitalisation of all operational services, following the success in providing digital services for container and cruise vessels across Abu Dubai's commercial ports in 2016.
"This achievement is a major milestone that highlights Abu Dhabi Ports' continued commitment to offer innovative and competitive solutions to our customers and stakeholders," Captain Mohamed Al Shamisi, CEO of Abu Dhabi Ports, said. "Our PCS is the first of its kind in the Middle East, and is optimised to provide efficiency for all the procedures that expedite the movement of vessels in and out of the ports, hence ensuring robust and smooth operations. With the completion of this phase of digitalisation, we have ensured the streamlining and facilitating of import and export activities at our commercial ports, further boosting Abu Dhabi's position as a leading maritime trade hub for the region."
The new general cargo and RORO services are demand driven, which will enable shipping and cargo agents to process manifest, delivery orders, load and discharge lists, operational service requests and tally lists through the Maqta PCS.