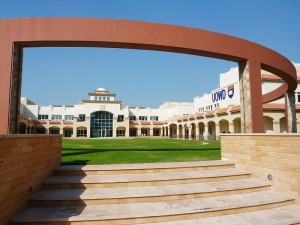 The University of Wollongong in Dubai (UOWD) may not be a home-grown school of higher education, but it has made its Australian-influenced IT programme a popular and permanent fixture in the UAE since its inception in 1995.
There are few other cities in the world that can boast as many international influences as Dubai, a city that has developed into a global hub of business, workers, entertainment, sport, tourism and travel.
You can also add education to that list. While it does have plenty of locally established, high-quality universities, it also has many internationally branded establishments.
However, despite originating in New South Wales in Australia, the University of Wollongong – which became an independent university in 1975 and now has around 30,000 students – can safely count Dubai as a home away from home. While the university is also present in China, Malaysia and Singapore, Dubai is the only pure operation it runs, with the others run in partnership with other institutions.
Furthermore, in 1999, UOWD became the first international university in the UAE to be licensed by the Ministry of Higher Education and Scientific Research. Full accreditation of all its programmes then came in 2003, making all graduating students eligible to work for the public sector.
The Dubai branch officially opened in 1993 as the Institute for Australian Studies before gradually becoming UOWD. It only took two years before the IT programme was born as a bachelor of computer science and another bachelor of Internet science and technology, with the demand then on Internet science-related issues.
"The computer science bachelor was the traditional programme and the Internet science and technology bachelor was a joint programme developed among the faculties of engineering, computer science and business in response to the demand for specialists in eCommerce," says Dr Mohamed Salem, Acting President and Dean of Faculty of Computer Science and Engineering, UOWD.
"At that time, we also had a bachelor of commerce and a bachelor of business administration, but our IT programmes were among the first degrees at UOWD."
Since its inception, the faculty has grown from a couple of full-time lecturers to what is now 15 members all holding a PHD degree.
But it is not just academic excellence Dr Salem seeks when hiring new faculty members, with a large emphasise on hands-on experience at the heart of the programme.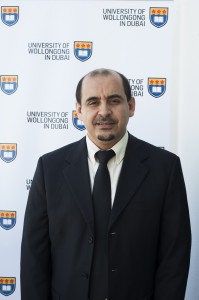 "I came from IBM. We have another faculty member who came from Ericsson, one who used to be an engineer, and we have other faculty members who are more into the IT management part, teaching things like IT strategy and system analysis," Dr Salem says.
"We look for colleagues who are research active, meaning academics who are really involved with industry. We do also try to have around 10 percent of the key subjects delivered by industry-successful people. For example, we got someone who was successful in creating two start-up companies in Silicon Valley and contracted him to deliver a subject. The idea is to connect students with the latest things happening in the industry."
It is this hands-on approach that Dr. Salem believes puts UOWD's IT programme at an advantage to others in the region.
"If you look at areas where we have computer programming, databases or software engineering, every subject has an average of three hours in the class in between lecture and tutorial, and two to three hours in the lab," Dr Salem says.
However, it is the final-year project that the university thinks is the real jewel in its crown in preparing its students for industry.
Students are put into groups to complete a nine-month project to come up with a new idea or technology.
"They have to go through all the lifecycle of the software through building the requirements to doing the design, implementing it and testing it," Dr Salem says. "We also always ask them as part of the exercise to look at the business viability and how that idea could be converted to some business idea.
"Our experience is that this project basically puts together everything they have learnt over their years on the programme, and by completing that project, they just mature all of a sudden. We have interesting statistics that show those who do extremely well in that project tend to get a job within the first three months of graduating."
An Aussie feel
In a region where the IT market brings a lot of experience from abroad, having that strong correlation between success in that project and employability is a strong indicator for the university.
Dr Salem refers to this educational approach as the programme's "Australian flavour of delivering content", which is highly focused on practical aspects and communication skills.
"Through the four years, students are highly exposed to presentation and debate," he says. "We have an advisory board for the faculty and a few months ago, one of its key members was the CEO of Cisco. He said the industry needs people who are able to communicate and do technical work – not people who can just do technical work.
"Our mode of education here, where students have two hours of lectures and an hour of tutorial in small groups, teaches students communication skills and that, in real life, they may have to work with people they may not like."
The final piece of the hands-on training puzzle at UOWD's IT programme is its students' requirement to complete a minimum of six weeks', or 12 for its engineering programme, full-time internship.
Asides from the practicality of the course, the other important factor in keeping the degree relevant is regularly reviewing, updating and angling it to suit current IT trends.
With technology regularly changing at a rapid pace, this is no easy feat and is a constant challenge.
Dr Salem believes the key is to still deliver the background that is needed but to adapt the teaching methodology. "The way projects were delivered eight years ago is very different to today," he says. "Back then, we taught software engineering, whereas today, it's about tools, rapid prototyping and building applications in a spiral model where you do everything to manage the risk.
"We have in the curriculum a few subjects that we know are key areas for employability. For example, we have a module on server models and server technologies. When you look at the enrolment within that subject, it's so popular even though it's only an elective subject. The reason is, if you've done that subject and you go to an interview, you know you're at an advantage."
Dr Salem and his team are always looking to improve the programme to keep up with evolving IT trends and, as such, do an improvement report every year on top of the major review it conducts every five years for accreditation.
"For example, this month, I'm looking at creating a subject on open-source computing because of the demand for that. That's the kind of thing we continue to do," Dr Salem says.