The last thing anybody needs is another story highlighting the benefits and challenges of implementing a cloud-based solution for their enterprise.
Most CIOs of enterprises now understand that the cloud is where IT is going. Maybe not the public cloud – yet, anyway – but private clouds and managed services are gathering more and more momentum every day.
Various estimates from the likes of Gartner and IDC estimate the cloud market to expand to a value of $72.9 billion this year, with the market for public cloud computing services in the Middle East and North Africa reaching $378.5 million.
What does warrant more discussion is who an organisation should turn to when selecting a reliable cloud service.
Yes, there are the large multinational organisations throwing their services into the fray – the EMCs, the Oracles and the SAPs, for example.
Then there are also the small start-ups that have made a name for themselves by becoming globally successful cloud services.
But how about the telecoms operators? Unsurprisingly, they're also getting involved in search of new revenue streams by partnering with technology companies that act as cloud enablers. And it would seem that perhaps they have a better platform for cloud services than anyone else does.
A new direction
Take the UAE's two leading operators as a key example. Etisalat and du have both invested heavily in their B2B cloud offerings of late and many organisations would be keen to use a vendor they already use and trust, and who actually owns the network.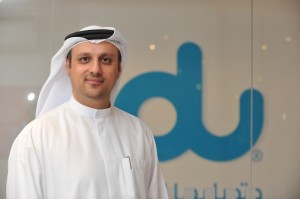 "We already have an existing market – virtually 100 percent of the market is already our customer in one way or another," says Ramesh Krishna Bhandari, Manager, Cloud Computing, Etisalat. "And we own the data centres. We've got about eight data centres with more in the making, so we already have the baseline infrastructure needed for cloud services.
"It becomes easier for us to provide customers with end-to-end SLAs with cloud services coming into play. 99 percent of the UAE is covered with our links. Then we also have LTE as another flavour, which supports the exponential growth of cloud and managed services. So since we already have the right underlying mix for a project, we will add more value than any other cloud service provider in this market."
Farid Faraidooni, CCO, du, concurs. "Telcos, with their large customer base, plus their ability to build large data centre infrastructures and connectivity, are ideally placed to offer cloud solutions," he says.
EMC also recognises the benefits of telcos entering the market, says the Senior Director of its global services organisation in EMEA and Turkey, Wael El Nadi.
"Cloud is enabling telcos to re-engage with their customers to drive new service offerings, address the data mobility challenges laid down by smart devices, and become more relevant to their customers," he says.
"Large-scale data centre and dedicated storage consolidation to mutualised platforms via refreshing legacy services offers the potential to deliver greater margins to their business whilst enhancing the end-user experience, driving improved SLAs and giving an all-round increase in performance and functionality."
According to a report from Ericsson, there are three major roles through which telecom operators can align themselves as providers in the cloud value chain – managing cloud activity, delivering cloud-based capabilities, and leveraging network assets to enhance cloud offerings.
Cloud-based resources that can be provisioned at speed and turned off, or released when not needed, offer big advantages with quantifiable capex benefits. They can be available at any scale and with a lower cost footprint than on-premise options.
"Telcos that take on the role of a provider of cloud services can manage connectivity, deliver cloud capabilities and leverage network assets to enhance cloud offerings," Faraidooni says. "Managing cloud connectivity is a natural value-add activity when bearing in mind the core competencies of telcos.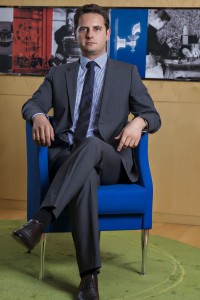 "They can also deliver on-demand applications and computing capacity through partnerships, or on their own infrastructure."
Andreas Krenn, Strategic Marketing Director, RMEA, Ericsson, believes telecom operators in the Middle East can add value in two ways.
"First, it's the understanding of the regional specifics in terms of consumer demands, culture as well as language," he says. "These are areas global cloud providers have difficulties with.
"Second, it is about the existing relationship operators have with their customers and the high amount of trust people have in their operator. Would you prefer to store your data and photos with your trusted mobile operator or with some company on the Internet?"
Living up to expectations
However, with consumer trust in their operators high, it leaves their expectations high, too.
This means operators cannot afford to sacrifice any quality in their cloud services in comparison to what is available from independent providers today.
"Users will be happy to try their operators' cloud services when they become available," Krenn says. "But as soon as customer experience doesn't meet expectations, users will leave and not return to the service for a long time. Customer satisfaction as a whole could be threatened."
El Nadi adds: "Cloud means telcos will need to continually evaluate their differentiated service offering, revisit commercial models, and leverage their core skills and assets, coupled with the mutualised cloud infrastructures to establish new revenue streams."
The other aspect is the need for the telcos to have a more collaborative approach with other B2E segments that can help them provide complimentary product offerings while leveraging the vast arsenal of assets they have, such as network bandwidth and customer proximity, says Stephen Fernandes, Assistant Vice President and Head of the Middle East, Cognizant.
Furthermore, many globally successful cloud services that arose from small start-ups have a lean organisational structure that allows for quick decision making, short development cycles, and fast time-to-market.
"The breadth of service all of us experience and the speed of how they appear and also disappear are directly related to how start-ups operate," Krenn says. "Telecom operators typically struggle with heavy processes, which stretch TTM to periods of a year or more for launching new services."
But Faraidooni is adamant that this is not a threat to telcos, but rather an opportunity where the operator is providing value across the entire product chain of services.
"Telcos already provide services such as email, managed hosting and storage solutions to their enterprise customers," he says. "The evolution to cloud computing is expected to be a natural progression for them, as cloud computing is the delivery of on-demand resources such as software, application platforms and IT infrastructure services, through a shared network, enabling remote access to hosted software, applications and so on via the Internet."
With traditional hard-wired carrier telcos often possessing deep-rooted cultures and legacy systems that are challenged by the requirement of agility that cloud demands, many are now attempting to establish nimble business units, which are specifically set up to drive cloud innovation.
"Mobile providers are also looking at how to drive new data-orientated services, and tertiary revenue streams as voice connective revenues come under pressure," El Nadi adds.
Looking forward, it is safe to bet that telcos will continue to be a force to be reckoned with in the arena of cloud service providers.
While expectations may be high, and certain challenges must be overcome, with an existing and loyal base of customers, and relevant infrastructure in place, they are in place to stake claim to a sizeable portion of the cloud market share.
Cloud services will continue to contribute to operators positively by creating new consumer demands on connectivity, El Nadi concludes.
"Regional telcos are ideally positioned to deliver new cloud services and applications in a trusted way that drives adoption and enables new use cases that we never thought possible from disruption created by cloud and big data," he says.