Sayed Hashish tells CNME Editor Mark Forker the details of Microsoft's sustainability mission, outlining that the US tech leader wants to be carbon negative by 2030, but added that the biggest challenge is helping other businesses become more sustainable.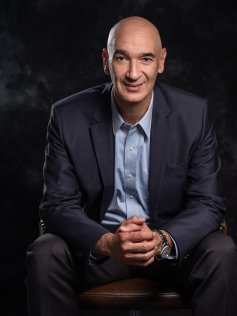 The IT industry is one of the most energy intensive industries in the world, so there has been an emphasis placed on them to become more sustainable as fears over the impact climate change will have on future generations becomes more acute.
Microsoft is one of the most innovative technology companies in the world, and one of the best-known brands, and its solutions allowed us to overcome many of the challenges we faced during the pandemic, especially in terms of enabling business continuity.
So, it should come as no surprise that they are leading the way when it comes to developing a cohesive and robust strategy that is designed to have a profound impact in terms of tackling sustainability issues head on.
In a candid interview with CNME Editor Mark Forker, Sayed Hashish, General Manager of Microsoft UAE, disclosed their sustainability vision, which he conceded himself is very ambitious.
"Sustainability is a very important topic, not just in the UAE, but across the entire world. As a company we have been very focused over the last few years on driving sustainability, and we have been carbon neutral since 2012. However, what we did beyond that was to announce that we plan to be carbon negative by 2030, and by 2050 we want to remove from the environment all the carbon the company has emitted from the day the company was created in 1975. This is a very ambitious goal that the company has set, but we see ourselves progressing well in terms of achieving our sustainability goals and objectives", said Hashish.
Hashish acknowledged that one of the biggest issues in terms of addressing wholesale sustainability was helping other companies become sustainable, which isn't as easy if you don't have the adequate resources to transform.
However, he said that technology is the key to bridging this divide – and stressed that it was buildings that generated the most waste and claimed that if we really want to drive societal change around sustainability then we need to make buildings 'smarter'.
"Most waste is driven by buildings, so there is a growing clamor for the development of 'smart buildings' globally. 40% of our energy is consumed by buildings and when you're in a country that has a warm climate for most of the year then it becomes even more important to manage energy consumption within buildings and you need technology to address that. We have partnered with many leading companies such as Schneider Electric, JCI and Siemens to try and drive the development of these smart buildings, because we want homes and buildings of the future to be energy efficient, which in turn reduces waste. We have two fantastic examples of smart sustainable building projects in the UAE, in the form of Bee'ah and DEWA, so that gives us hope that we are on the right path".
At last year's GITEX, Microsoft showcased sustainable farming and food security and demonstrated how the deployment of technologies like AI enable them to help the agricultural sector to decrease the need for irrigation by 40%.
Hashish also highlighted how Microsoft has built what they call the Microsoft Energy Core in the UAE, which is essentially a center dedicated to digital transformation in the energy sector, to share best practices and showcase innovations to run more efficient and sustainable operations. He also pointed to Microsoft's 'Microsoft Emissions Impact Dashboard' as being a key tool for helping companies manage and measure their carbon footprint.
"We have witnessed a demand from our customers to reduce their carbon footprint, but many were unable to measure it and if you can't measure then how can you measure your progress and determine what impact your sustainability initiatives are having? We created what we call the Microsoft Emissions Impact Dashboard,formerly known as the Microsoft Sustainability Calculator, and this helps our customers to basically measure their carbon footprint and relays to them how much they are contributing in terms of carbon, and ultimately informs them on their progress and serves as an indicator as to whether, or not their sustainable strategy is working. Our mission as a company is to empower every organisation and individual on the planet to achieve more", said Hashish.
The Hybrid Paradox:
The COVID-19 pandemic has fundamentally reshaped the way we live, learn and work, and no one could ever have predicted or imagined how seismic the changes to our lives would be, not even a company like Microsoft, who are typically ahead of the curve when it comes to new trends that will drive societal change.
We now live in a hybrid world in terms of the way we view work, and the autonomy given to employees has empowered them.
Hashish believes that the world has changed and will not return to the way it was, and quoted Microsoft CEO Satya Nadella in saying that we now find ourselves in a 'hybrid paradox'.
"We have seen a desire from people to reinstate human interactions. We know that technology has been great in terms of enabling business continuity, but one area that we were all missing was those human interactions because we are social beings. We closed our office for well over a year, and in a lot of the staff meetings we would have online, I would regularly be asked when will the office re-open? We decided to re-open on July 1st, and when I went into the office nobody was there! I think what that illustrates is that whilst many miss those human interactions, people also appreciate the flexibility they have in terms of working remotely, and we know that it has driven efficiency and productivity", said Hashish.
The General Manager at Microsoft UAE believes that flexibility is now a key issue for employees in terms of deciding to remain on with their existing employers or in their pursuit of new opportunities, citing the data from their recent Work Trend Index Study as an example of that new trend.
"The hybrid paradox means that it doesn't have to be one or the other. I think there is an acknowledgement that people appreciate the level of flexibility with remote working and gives them the empowerment to choose what is the best way for them to manage their work-life balance. We conducted a work trend index study and that really analysed the shift in employee expectations and established what the drivers are either in leaning people towards staying with their company or looking for another job. This trend of flexibility in the workplace environment is now featuring prominently amongst employees and is a high priority, and in many cases the topic of flexibility is coming even before salary, and other areas you thought would've been more important", said Hashish.
UAE Golden Jubilee
The UAE celebrates its 50th anniversary this year, and what it has achieved in half a century is in many ways beyond comprehension. In the latest illustration of its technological prowess EXPO 2020 will be the most connected place on earth.
The country's ascent as a beacon of technological progress and futuristic vision has been driven by progressive leadership that implemented the right infrastructure, processes, and ecosystems in place to drive innovation.
A major cog in that meteoric rise, which has also seen the UAE emerge as a major player in the space race, has been Microsoft, who has been present in the country for 30 years.
However, Hashish stated that Microsoft has always felt part of the 'fabric' in the UAE, and that has enabled them to carry out its mission, which as we have already established is to empower people to achieve more.
"We have never regarded ourselves as a US company operating in the UAE, we think of ourselves as part of the fabric of this society. Many of us have spent quite a long time here, so you have that sense of loyalty and belonging, and we feel that we can use Microsoft as a platform to help the country, which is exactly what the company wants us to do, as it reinforces our mission statement which is to empower people to achieve more through the deployment of technology", said Hashish.
Hashish also pointed out that one of the most appealing aspects that attracted Microsoft to establish a base in the UAE over 30 years ago, was the ambition demonstrated by the UAE leadership, which really resonated with tech luminaries like Microsoft.
"What Microsoft has always appreciated about the UAE is the country's ambitious vision. It's one thing to have an ambitious vision, but it's another thing to have the ability to execute that vision. The UAE is celebrating 50 years, and Microsoft has been here for 30 of those, and we have witnessed the incredible transformation, and we have played a big part in it", said Hashish.
He also stated that Microsoft's commitment to invest in the UAE, was a big factor in attracting other large enterprises and tech entities to invest, which inevitably boosted the country's economy and GDP significantly and paved the way for it to become a nation of innovation.
"As one of the big tech players our presence encouraged others to invest in the region and contributed to layingthe foundations for making Dubai a hub of technological innovation. More recently, our datacenters which were the first in the UAE sparked a huge move towards cloud, and we believe that move by us will entice other tech players to make similar investments. We are fully committed to the country because we genuinely feel part of the fabric", said Hashish.
GITEX Global 2021
Microsoft have been a permanent fixture at GITEX for decades, but their decision to overhaul their stand last year paid dividends according to Hashish, as the company created a hub that was bustling with energy, and he is hoping to replicate that this year.
"GITEX is the region's flagship IT and tech conference, and we were delighted to be there last year. I know many companies opted out, but we were always going to be there, as you see so many new technologies being demonstrated and solutions that can address real problems for businesses in many industry verticals. What we did last year, and I believe we really benefited from it, was our decision to move away from our traditional stand. We increased the size of our stand to allow for social distancing, but we also did it to introduce different experiences, and it very quickly became the Microsoft Hub. This year, it will be very similar, but I'm very excited at the introduction of workshops and panel sessions on all the pressing topics that are top of the agenda in the minds of our customers and partners – and it should be another fantastic GITEX", concluded Hashish.