Mimecast, a leading email and cyber resilience company, is showcasing all of its security products as well as its Artificial Intelligence (AI) capabilities at GITEX Technology Week this year. In particular, the Mimecast CyberGraph is on show-a new add-on for Mimecast Secure Email Gateway that is engineered to use AI to help detect sophisticated phishing and impersonation attacks.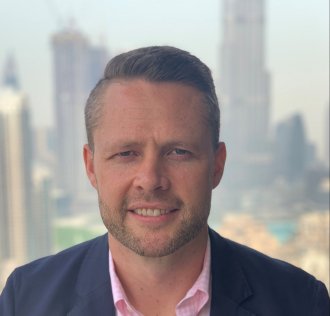 "CyberGraph is one of our recent launches and it's the first time we're showcasing it at a show in the Middle East at GITEX", said Werno Gevers, Regional Manager, Mimecast Middle East. This is our AI technology. Today, threats are getting exceptionally advanced and more and more organisations are relying on Artificial Intelligence. With some of the customers we have surveyed in our State of Email Security Report, we see that almost 50% of them are using AI to combat cyberthreats. So we built an identity graph and we want to try and see where the anomalies are. So, in your day-to-day communication, we detect any anomalies in advanced phishing or impersonation attacks. This identity graph continuously learns through machine learning. So, if you communicate with someone for the first time or someone communicated with you for the first time in your organisation, we'll prompt you about that with a colour-coded banner that changes colour depending on the type of threat. It changes dynamically within your inbox and this helps the system learn. It's also very easy to deploy, so you don't need a lot of IT resources to maintain and manage the system. Once you deploy, it runs by itself and teaches and learns by itself.  
In Mimecast's latest State of Email Security 2021 report, it was also revealed that 55% of organisations in the Middle East reported an increase in phishing with malicious links or attachments. However, only half of the organisations had safeguards in place, despite 86% being hurt by a lack of cyber preparedness in the past 12 months. 
"The growing digitisation of personal and professional lives and the widespread adoption of new hybrid work models have created fertile ground for an acceleration in the volume and sophistication of cyber threats, forcing organisations to enhance their security posture", Gevers said. "GITEX gives us an opportunity to highlight the role of tools such as Artificial Intelligence in a layered security strategy that aims to better protect businesses, employees and critical infrastructure from a rapidly evolving threat landscape". 
In addition to introducing visitors to Mimecast CyberGraph, the full range of Mimecast's security services – including advanced email and web security solutions, brand protection capabilities and awareness training – will be showcased at the event. 
"Cybersecurity leaders in the region are tapping into a variety of solutions and tools available in the cybersecurity market to help them secure their digital transformation initiatives", Gevers added. "We hope to educate organisations about our offering and demonstrate how we can help them in their cybersecurity journeys, with advanced security solutions that can protect them from cyber threats". 
According to Gevers, the buzzword today is digitisation. "Everyone is rushing to the cloud for various reasons, and the work from home environment has forced companies to accelerate these strategies. The biggest challenge to that is that new threat actors are arriving. Because people are moving, the threat landscape is expanding. Any cyber attacker is going to leverage this bigger digital footprint. Brand impersonation is a very good example. That puts a lot of onus on companies. The attack vectors are also extremely worrying. The big challenge for customers is that while their journey to the cloud is sudden and accelerated, they don't have a very robust cybersecurity strategy that's embedded into that digitisation process. This is what we see as one of the key trends in the market today".