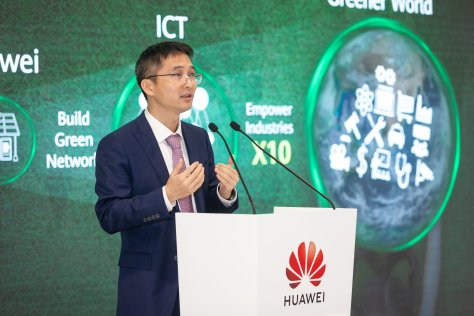 As a leading global provider of ICT infrastructure and smart devices, Huawei incorporates green development into everything they do. They see this as part of their social responsibilities.
Introduced by Bob Cai, Chief Marketing Officer of Huawei's Carrier Business Group, at the Huawei Green Better World Summit, ICT infrastructure will play a central role in emission-reduction efforts, and Huawei said assisting with this was part of the company's social responsibilities.
Cai said, "With our innovative products and solutions, we will help operators cut carbon emissions and make their networks more energy efficient. We also want to work with operators and use ICT to better enable other industries to cut carbon emissions and become carbon neutral faster".
"Right now the ICT industry enables other industries, like coal mining, like ports, like manufacturing," Mr. Cai told the summit. "ICT can make a great contribution to these industries to not only improve efficiency, but to bring green solutions to realise carbon neutrality".
Mr. Cai described how Huawei deployed technologies such as 5G, IoT and cloud to industries such as agriculture, where it improves the management of farmland.
This is illustrated by Huawei's operations in Switzerland, where the company has worked with partners to use 5G to control drones used for the targeted inspection of crops. AI on the cloud allows intelligent computing and control, reducing pesticide use by four-fifths and herbicide use by half. Green ICT technologies will offer similar benefits to myriad other industries, Mr. Cai told delegates.
Many regions around the world will need more ICT infrastructure for their economic development, and Mr. Cai said Huawei believed that such development and the lowering carbon emissions were equally important.
It is for this reason that the company has called for the industry to develop a viable standard and methodology to better manage and measure carbon-reduction roadmaps.
At MWC Barcelona 2021, held in late June and the beginning of July, Huawei and Informa Tech jointly proposed the Network Carbon Intensity, or NCI, index, which measures carbon emissions per bit of data. This could be used as a metric of green networks.
"We need a standard methodology to manage and measure the carbon emissions at the same time as we're developing economically," Mr. Cai said. "More countries still need to develop their connectivity and computing capabilities to develop economic growth, but on the other hand, we have to try to lower the carbon emissions as much as possible. We need a platform to invite partners to discuss the path to a greener world".
Huawei is pursuing innovations that will make telecom networks more energy efficient, such as through the development of new materials, high-performance algorithms, and innovative heat-dissipation technologies.
The company invests more than 10% of its sales revenue into R&D and innovation, which leads to continued efficiency improvements. Many technologies are on display in "Innovation High Land", the company's exhibition hall in Dubai, which Mr. Cai announced would remain open until February next year.
The Better World Summit heard from a variety of other speakers, including Tommy Stadlen, co-founder and general partner of Giant Ventures. "The technologies Huawei is showcasing will help workers to feel together even when they're apart", he said.
As well as assisting other organisations with their efforts to cut carbon emissions, Huawei is working to reduce its own carbon footprint.
For example, the company's R&D centre in Chengdu in central China, which uses 200 million kilowatt-hours of electricity annually, is fully powered by hydroelectric power. This saves 177,000 tonnes of carbon, which is the equivalent of planting 7.7 million trees.
Ending the Better World Summit was Aaron Jiang, vice president of Huawei Wireless Product Line, who discussed the company's move to green 5G technology in a presentation titled, 'Build Green 5G, Lighten Low Carbon Future Together'. "We need to focus on a green and low-carbon network", he said. He said the improvements in efficiency that Huawei was introducing would help to limit energy use even as network traffic increases.
Several Huawei technologies were showcased, some of which have been deployed in China and in other markets around the world.
Mr. Jiang highlighted solutions such as PowerStar2.0, which uses intelligent energy-saving algorithms to reduce the energy consumption of multi-mode, multi-band mobile communications networks.
By reducing power consumption, PowerStar2.0 enables operators to meet energy-saving goals without affecting network performance.
"Energy consumption is reduced by 25%, but KPIs are the same", said Mr. Jiang told delegates during his presentation.
Mr. Jiang also discussed GreenSite, another Huawei technology to help with the development of green, low-carbon 5G networks.
This improves energy efficiency 20 times through the integration of innovative architecture, site construction and algorithms with leading-edge software and hardware.
MetaAAU, Huawei's latest 5G AAU, provides the same coverage as conventional AAUs, but uses 30% less energy.
Delegates at the summit also heard about Ultra Wideband RRU, a technology deployed in Russia that has reduced power consumption but with more bands and improved user experience.
At next year's MWC Barcelona, Huawei will hold a green development forum, with all industry partners and operators welcome to attend.