UAE, 18th October 2021: Moro Hub (Data Hub Integrated Solutions LLC), subsidiary of Digital DEWA, the digital arm of Dubai Electricity and Water Authority (DEWA), recently signed a Memorandum of Understanding (MoU) with Milestone Systems, a leading provider of an open platform video management software, as part of its continuous efforts to fast-track the Moro Hub's digital transformation efforts. The agreement was signed between Mohammad bin Sulaiman, CEO of Moro Hub and Jos Beernink, EMEA Director and Acting Vice President, Milestone on Monday 18th October 2021 at GITEX Technology Week at the Dubai World Trade Centre.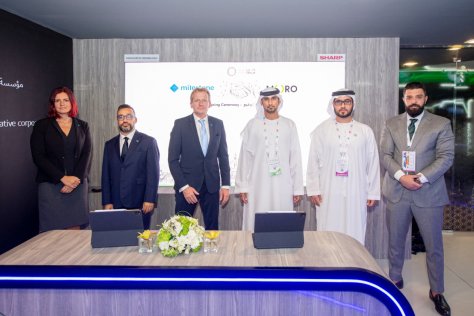 "The Milestone-Moro Hub MoU will play a pivotal role in Moro Hub's initiatives to be a leader in the deployment of the most innovative technologies available today. Our collaboration is also aligned with our efforts to boost Dubai's bid to become the smartest city in the world and help achieve the objectives of UAE Centennial 2071 and Dubai 10X initiative. We are happy to collaborate with Milestone in our endeavours as it joins our ever-expanding network of technology partners. Through this partnership, Moro Hub will also be able to explore and reach out to private and public sector businesses in the region", Mohammad bin Sulaiman, CEO of Moro Hub said.
Commenting on the partnership, Jos Beernink, EMEA Director and Acting Vice President, Milestone, said: "Milestone is delighted by its newest agreement with Moro Hub. Our partnership places us in a position where we can help further increase Moro Hub's business efficiency, reinforce its asset protection capability, and strengthen the reliability of its operations. We look forward to working closely with the Moro Hub team to successfully meet our objectives within the set timeframe".
Milestone is known for its reliable and scalable solutions that have been proven effective in more than 500,000 sites worldwide. With presence in at least 23 countries, the company has integrated at least 600 software programmes.
The MoU is seen to accelerate Moro Hub's journey towards a digital future and plays a significant part in the UAE's preparations for the next 50 years under the guidance and directives of HH Sheikh Mohammed bin Rashid Al Maktoum, Vice President and Prime Minister of the UAE and Ruler of Dubai.