From New York to Nairobi, Paris to Perth and Beijing to Buenos Aires, Emirates is internationally acclaimed as one of the world's elite airlines – and one of its most powerful brands. James Dartnell sat down with the company's Senior Vice President of Group Finance, Michael Doersam, to discuss the powerful bond between the firm's Finance and IT divisions.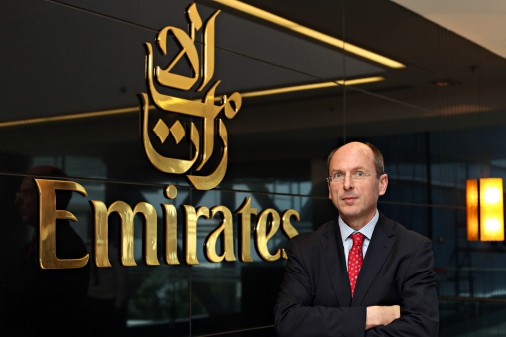 "Once you've caught the scent of kerosene, nothing else will satisfy." Michael Doersam recites the aviation adage with a wry smile, revealing a passion for the industry, which began in line with his tenure at German carrier Lufthansa in 1988 – that has seen him make a marked rise to becoming one of the most established and influential finance chiefs in the Middle East, at Emirates airline.
Serving 144 cities in 81 countries from its Dubai hub, Emirates is currently experiencing something of a purple patch. Founded in 1985, the Group has seen the size of its business triple in the last nine years, and things don't look like slowing down. Synonymous with excellent customer service and contemporary products – the company has just added routes to Bali, Orlando, Multan and Bologna to its roster – and a superlative travel experience, the name 'Emirates' is firmly established in the four corners of the globe. Emirates Group recently reported a formidable 34.6 percent operating profit increase for the financial year 2014-15, with an imposing ability to grow its customer base, and continually satisfy those who are already on side. The role of technology in this financial transformation is undeniable, according to Doersam.
"There's a very good relationship between IT and finance," Doersam says, "There's a high level of collaboration between myself and the company Vice President of IT, Patrick Naef. The senior management board – of which we are both members – takes decisions on IT investments, and we also take a number at group level across finance." The balance between technologists and those who are numbers-oriented is never overlooked. "For any IT venture we have two project managers – one from the business side and one from the IT side." Doersam feels that results have spoken volumes about the strength of the departmental partnership. "Our track record has made it clear that we're doing things the right way," he says.
The shift to digitalisation is one that will impact every industry, and Doersam is fully aware of Emirates' need to capitalise on the trend. In a low margin industry such as aviation, the ability to exploit any possible advantage is key. "The main question for us is 'What will be its impact on finance?'" he says. "The massive quantities of data and information that are available need to be used in a meaningful way, and for this to happen, a strong collaboration between technology and finance is needed. We need to find the game-changing data so that the business can benefit."
In line with this digitalisation drive, a number of technology analyst and research companies have labelled the future ubiquity of the Chief Digital Officer role as inevitable. Doersam, however, does not agree with the assertion, saying that the existing CFO-CIO collaboration should continue without interruption. "From a finance perspective I don't see a real need for a CDO," he says. "With a CIO and Group Finance SVP in place, both are embedded in business functions. The real issue is how we can deal with the challenges of Big Data going forward. I don't really believe that a centralised role will benefit the organisation in this respect."
Unlike a lot of businesses, where the question surrounding who is the main custodian of company data – the CIO or the CFO – remains contentious, Doersam has achieved a diplomatic and productive balance in solving the issue. "At Emirates, it's always discussed in terms of a partnership," he says. "We both have our business hats on, and by using ideas from both sides of the table we ensure that it doesn't sit on one side or the other, and is used to find the best way forward for Emirates."
Emirates' status as a world-class airline necessitates exemplary service across the board, and, now more than ever, technology sits near the top of the list of customer service priorities. To that end, the increased breadth of payment and interaction channels available to customers has required a range of fresh approaches from enterprise IT teams. This shift in demand is never far from Doersam's mind. "From a business perspective, we always have to think about being more agile," he says. "Being able to offer products across a variety of platforms and systems is absolutely essential; the customer will simply not accept being able to purchase through only one channel. This ultimately comes down to an extreme collaboration between the financial and commercial departments." Doersam says that Emirates is also leading the industry with a high numbner of alternate payment options. "We're continuously looking at new solutions and have a number of  new payment options currently in our development pipeline," he says. "It's imperative that we remain as agile as possible."
Doersam firmly believes that comprehensive upgrades in both technology and business processes over the last nine years have made a huge contribution to the company's success. While modern initiatives like on-board Wi-Fi play their part in keeping customers happy, the sharpening of internal affairs has been hugely beneficial. "On the one hand, the automation of systems has been hugely advantageous from an accounting perspective," he says. "At the same time, it's opened up new opportunities on the analytics side. Technology is playing a massive part in this. It's always thinking of new ways of fuelling Emirates."