Madukar Chaturvedi has seen a great deal in his career. From programming through punch cards to the modern era of computing, Chaturvedi reflects on his accomplishments.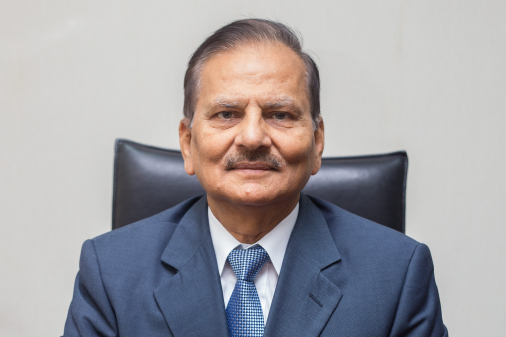 Madukar Chaturvedi, Director of IT, Oasis Investment Company, is comfortable in the face of a challenge. Born in Uttar Pradesh state in India in the days before computers had entered any kind of commercial market, Chaturvedi sought to follow the footsteps of his uncles and become a mechanical engineer. "I did not use a computer until I was in my 20s," he says, "so when I was young, I thought that mechanical engineering would be the career for me."
For his secondary education, Chaturvedi moved to Bihar and graduated at the top of his class. He was accepted, at that time, into the prestigious Saint Xavier College. "The college was supported by universities in the United States, so we students received a US education while living in India." Always the diligent student, Chaturvedi graduated from Saint Xavier's with honours in Mechanical Engineering.
In 1971 he attended the Indian Institute of Technology in Kanpur for his master's course. "It was there that I began using computers," Chaturvedi says. However, it was a far cry from the many servers and PCs that he is surrounded by today. "I used a deck of  punch cards – a computer deck," recounting the arduous task of programming in the early days. "There were 400 to 1000 cards in the deck. I would compile them and take them to the operator. I would drop the deck off with the operator, and after maybe a three-hour delay he would run the deck through the IBM 1620." If there was an error in his programme, he would only know at this point, and would have to correct the entire deck.
It was tedious to say the least, but Chaturvedi recalls the process as a thrill. "I remember riding my bicycle from my flat as fast as I could to reach the computer lab to see my results," he says. "It was so exciting to set these elements in place and see a positive result." Always looking to improve processes, his favourite studies involved optimisation.
He took his love of results-based programming with him to Poona, India, where he was employed by Walchandnagar Industries as a Senior Industrial Engineer. "I was looking after computerised material planning and inventory control," he says.
After three years at Walchandnagar, he moved to Engineers India Ltd in New Delhi where he was hired as a Systems Engineer in Management Consultancy. There, he developed and implemented management control systems and conducted market feasibility using quantitative analysis. "Most notably," he says, "I provided consultancy for the government of India in the area of atomic energy. I provided knowledge-based project management consultation to atomic power projects of India."
Solidly entrenched in India's power scheme, in 1980 he became the Deputy Manager for EDP and Management Services for the National Thermal Power Corporation in New Delhi. There, he brought corporate and office systems into the modern age with cutting-edge management systems and computer services. "This was an essential parameter to gain funding by the World Bank," recalls Chaturvedi.
In 1982, Chaturvedi made a move again, this time to EMITAC. "I was moving every three years," he admits, "but I think that is normal in early careers to move and then settle down." This particular move was bold in a number of ways. "I was in Sharjah," he says, "and I had never lived in the UAE." He finished his previous role, boarded a plane and the next day was in a boardroom with the financial directors of seventeen companies tasked with creating a new financial system. "They asked me if I knew accounting," he recalls. In a defining moment, Chaturvedi admitted he had not studied accountancy. "I was nervous, but I was bold. I told them I could learn the basics of accounting." Chaturvedi asked one of his friends, a financial controller to help him. "He tutored me for 30 minutes and then gave me a financial accounting book. I read that book for 72 hours, and then asked the directors of finance to quiz me on this new-found knowledge of finance. If you can believe it, I passed." A year later, Chaturvedi had developed an accounting system that was rolled-out to all seventeen companies.
Through the late 90s and into the new millennium, Chaturvedi continued to trust his instincts and take risks that paid off in the long-term. He founded Orient Information Technology in Dubai, and developed the organisation into one of top IT service providers in the region. The company grew at a rapid pace, with more than 100 percent growth every year for three years.
In 2003 he co-founded a consulting firm that specialises in Microsoft technologies – Advanced Business Solutions LLC in Dubai Internet City. Then, in 2005 he took on the role of President and Director of IT People, an IT human resources company.
Finally, in 2006 Chaturvedi joined the Oasis Investment Company, the holding company of Al Shirawi Group. When he joined Oasis Investment Company, he had to start from the beginning. He set up the IT division of the group, in a mission to provide support for the 30 companies under the group's umbrella. He implemented Oracle solutions – most notably Oracle ERP eBusiness suite and Oracle BI across companies throughout the region.
To support the group's IT goals, Chaturvedi set up a software development support centre company, Oasis TechnoSoft, in India. This technical wing is set to develop and implement ERP applications. He has brought cutting-edge technologies to the company, such as RFID for their large warehouses, manufacturing areas and work-in-progress areas for tracking products and inventory.
"I am proud of my past accomplishments," says Chaturvedi. As he looks back on his achievements, he feels the need to give something back. As such, he was the adviser and head of the IT committee for high schools in Dubai. Under his leadership, four schools were able to receive an "outstanding" evaluation by KHDA in Dubai.
His advice for up-and-coming IT professionals – "Always keep core business requirements in mind. The IT department has to consider the company's end-goals. You can build a bridge, but if the bridge is going in the wrong direction, or if it is missing pieces, it is useless. In isolation things will never work."
It has been some time since a young Chaturvedi tore through campus on his bicycle to see the results of his computer programming deck, but he still feels that same excitement about technology. "I still feel a thrill when I see things falling into place," he says. "When all of the elements are set up, and when I can see the immediate results, I feel just as accomplished as I did then."