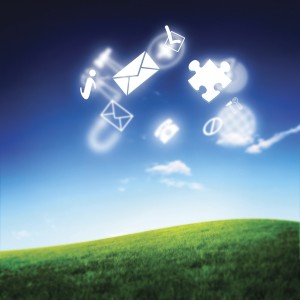 There has been a shift towards management software in recent years, particularly as companies attempt to get to grips with trends that are changing how they do business. But what are those trends, how have they affected management software and what is next? Ben Rossi reports.
Unsurprisingly, the key trends vendors say have affected their management software offerings are virtualisation and cloud.
"Customers are continuing to virtualise their applications and move more to cloud computing, which is driving a new approach to management," says Michel Nader, regional sales manager for the Middle East, Pakistan and Africa at EMC Infrastructure Software Group.
"The new approach takes into account that the physical infrastructure is now a shared resource, applications are in motion, and integrated management of virtual and physical infrastructure is key for delivering services at the speed of the business. This ensures they meet availability and performance expectations, and that they are compliant and secure," he adds.
Goksel Topbas, server and tools business group lead at Microsoft Gulf, says these trends have specifically affected how Microsoft approaches its management software offerings.
"We've seen public cloud offerings becoming available and more customers virtualising their platforms and building private clouds. We reshaped our System Center, which is our management software, to provide full cloud integration and hybrid cloud management capabilities," he says.
"It integrates all of these management capabilities – like health management, operations management, deployment capabilities and virtualisation management – and not just for Microsoft platforms, but all platforms. It also integrates with Windows Azure and Office 365 public cloud, and brings cloud management," he adds.
Mobility
Vikram Suri, MD at Sage Software, identifies different trends as the key game changers at Sage.
"I think the significant trends we see today are the need for the software to be made customisable because most of the trends we see are towards mobility and social networking. There seems to be an increased need for things like sales force automation and customer service automation," he says.
"The trends we see clearly are towards smartphones, mobility and the software to be more customisable and adaptable. Fortunately for us our strategy has been quite aligned with these trends. I would say in the middle of our management software is our CRM offering, which is now available both in the cloud and on smartphones. We saw these trends early and have been approaching them in a very scientific manner," he adds.
Asheesh Raina, principal research analyst at Gartner, says globalisation – and uncertain economic climates – has also affected how vendors are shaping their management software.
"There are a lot of companies going global and a lot of merger and acquisitions happening. There have also been economical changes and some of the European and U.S. markets are not doing well. Companies that used to operate in maybe the UK or U.S. are looking for a different market – maybe Japan, Middle East or APAC – where they can continuously earn revenues in a predictable manner," he says.
"With these changes companies have to become a little global in nature and get into some uniform kind of technology. Companies are becoming cost sensitive and want cheaper forms of management software to be deployed on their side. The vendors are responding to these trends by creating low functionality management software that we can adjust to quick requirements," he adds.
As well as management software adapting to the trends, Nader says it has also had a mirrored effect where the trends have further accelerated as enterprises race to implement the solutions.
"Cloud adoption continues to expand as increasingly more types of workloads are entrusted to cloud service deployments. Substantial growth is also taking place in the utilisation of internal private cloud approaches, bringing a deeper service orientation, which surfaced as operational maturity across a number of measurement points," Nader says.
Cloud
He adds that data managers continue to strive for better access, visibility and control for both cloud services and virtual server deployments, and vendors must adapt to these requirements.
"Management software needs to deliver against these customer needs with  increased automation, including provisioning of applications and converged infrastructure, integrated management of the physical, virtual and cloud environments, and continuous compliance against industry and internal standards bringing improvement in aggregate service orientation," he says.
Suri says management software differs in adoption rates across varying industry segments and geographies.
"In the more developed economies of the world we see that there is a far greater adoption rate to cloud computing and the way management software is distributed across an enterprise. In this region, when we talk about more handheld devices with employees, there are several other things that come into play, like security, the management of these devices and user education," he says.
Bryan Mackenzie, GM at Quintica, says vendors understand the needs of enterprises and are able to customise their solutions suitably.
"Management vendors realise that IT must be able to support the business and provide reports that are useful to non-IT audiences, which means new business-focused metrics are becoming more prevalent. Contemporary network management solutions today must have the ability to provide the visibility and cohesive management for all types of services which reside on the network, whether it is virtualisation, cloud or wireless," Mackenzie says.
"It is only through integrated management that network managers will be able to see where to adjust capacity needs on virtual servers, increase bandwidth for data being pushed out to the cloud or ensure that all wireless devices have enough access points to be used effectively," he adds.
Hype cycle
However, the trends are continuously changing, Raina says, and it is important vendors keep adapting. He compares trends to a 'hype cycle' where if enterprises implement something just because it is hyped, they may fail.
"Whenever a new technology comes it is like a baby in that we think it's going to do wonders but as it grows there are limitations. There are things that it does extremely well but other things it doesn't. Cloud is at the level of hype today, but the reality is there are a lot of concerns beneath it that need to be addressed, like with security, data protection, data portability, interoperability and migration. So whenever those are not considered, there will be failures," Raina says.
"There will be a lot of companies that adopt it just because it is so hyped up, but they may fail because the cloud is not the right fit for them. When that kind of realisation sets in they will become a mature user and realise that cloud can only be used for some part of their organisation, not everywhere. So I think management software will change this year in that all organisations will look at cloud in a different way and will respond differently. This also means the transformation will be high so it won't get stagnant. Some will adopt it and some will abandon it because it doesn't work for them," he adds.
Suri says the uptake of cloud and virtualisation will increase the footprint of management software this year, but it will vary by the function of its deployment – like on-premise or on-demand – and cultural and security issues.
"If you look at the markets in North America or Western Europe – if you have an organisation with about 20 or 50 people, they would not consider an on-premise solution, because the sheer cost of deploying and running the infrastructure would be prohibitive. Compare that to the cost of people in Asia or the Middle East, or other parts of the world, you will – even in organisations of up to three of four hundred people – still be debating whether or not they would like to adopt software," he says.
"So it's a function of cost of capital, cost of software and cultural issues. For instance, within the GCC, it's difficult to get disparate people and organisations to work together, despite the fact that it's well known things on the cloud are fairly secure. For an organisation to have their base financial systems or key data on a shared cloud – there's going to be trust issues," he adds.
George Petrides, director of enterprise management solutions at Emitac Enterprise Solutions (EES), differs in opinion with many vendors, in that he doesn't think the infrastructure of a management software solution needs to change to suit a virtual environment.
"In terms of the infrastructure, when we talk about servers, software, databases and applications, it's still the same thing when it comes to the infrastructure. Whether it's virtual or physical doesn't make a difference," Petrides says.
"Where the management software makes a difference when it comes to the cloud is we now have software to automate the provisioning of service and applications. We can enable a customer – or even a service provider – to have a portal to automate all the processes behind it in terms of provisioning and providing the services to the rest of the organisation, by just clicking a mouse button," he adds.
BYOD
Cloud and virtualisation may be the trends that have mostly affected the current management software offerings, but moving forward vendors identify BYOD (bring your own device) as the issue enterprises will want addressed.
"Today's youth have been spoilt with the choice of multiple handheld devices. This is an inevitable change that is gaining high momentum. Going forward there'll be a whole lot of infrastructure built around it and companies will try to flow with this trend. They will allow their employees to use these multiple handheld devices and to access company information on them. Along with that they will need management software that can do information management protection across the devices," he says.
"So if I lose my mobile phone and somebody else gets it they will not be able to access that data. There has to be some kind of remote control on that information as well. So going forward I think there will be some kind of software that is platform-independent, operating system-independent, application-independent, and something that will integrate the safety of the information that resides on the devices," he added.
Topbas says BYOD was a main driver behind Microsoft's recently released 2012 edition of System Center, its system management software solution.
"We're very proud that with System Center you can manage mobile devices, slates, tablets, laptops, desktops, servers and network devices. It's really helping our customers be able to confidently bring new devices to their environment," Topbas says.
"Customers will be able to get those devices integrated with the current enterprise policies, security and all the necessary needs of the enterprise platform. Also it will let them use all the consumer-based offerings and applications so in a way it will help accelerate the consumerisation of IT in a much more secure and controlled way," he adds.
Looking forward, vendors predict further changes to the management software scene.
"Up to now we've been addressing only the high-end enterprises, but we think being able to offer software-as-a-service will make these platforms more cost-effective for SMBs. They'll be able to afford the management platforms, opening up the market a little bit. From our side we keep investing in people – our main goal is to have highly skilled consultants," he says.
Topbas adds that Microsoft is shaping its future offerings to give customers a more collaborative and integrated management solution.
"I think management software will be required to manage the whole device platform and integrate public cloud and private cloud. Going forward we will see some interesting offerings coming from the public clouds," he says.
"Windows Intune, for example, will probably become available in the Gulf in a year. It will help our customers manage their devices from the cloud so wherever you are you just need an internet or GPS connection to be managed and get the same policies and security features. I think in the future we'll see acceleration in the adoption of management across different platforms and managing the whole infrastructure rather than just portions of it," he adds.