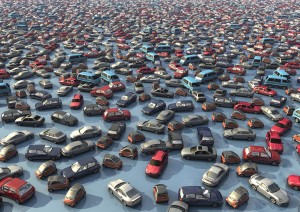 There's an expanding need for data over voice, and network traffic is feeling the strain. Optimising your network is a crucial step for embracing LTE and 4G, but what are the tricks of the trade in this constant struggle? 
Operators are at their wits' end in an attempt to provide their customers with the maximum network resources due to an unprecedented volume of data demand. Mobile apps such as instant messaging, video messaging, picture sharing, social media, and Web-based games are guzzling bandwidth, expanding the demand and adding weight to the operator's job.
"Network optimisation is a comprehensive set of processes and technologies used to enhance customer experience and utilisation," says Saleem AlBalooshi, Executive Vice President, Customer Operations, du.
"They are used at different layers of the network from radio access to transport, core, and IP. The objective of network optimisation is to enhance radio coverage, relieve network congestion, and ensure that customer traffic traverses the network with the least possible latency and delay variation. All of these factors contribute to an optimal customer experience for all customer applications such as voice, video, browsing, and download."
Cisco has predicted that, by the year 2016, there will be 6.6 zettabytes of global data traffic. This exponential growth only adds to the importance of the initial design and optimisation phase of the network.
"Network optimisation is as important as network design itself. This is due to the fact that people are now carrying their office on the mobile gadgets they carry, while at the same time, increasingly using real-time data applications," says Anurag Verma, Telecom Operations and Managed Services Lead, Smartworld.
"Network performance degradation can result in dropped calls, which is the lack of bandwidth causing phones to reduce the audio bandwidth and tardy response times for data downloads. Good customer experience in the use of mobile is critical for the success of an operator. Optimisation leads to efficient use of spectrum and enables better service quality across the network, thereby reducing churn, which is inimical in the mobile industry. In a way, it is an enabler to reduce operating costs for the cellular network and gain market share."
Karl Osswald, General Manager,  Aviat Networks, agrees that reducing churn and cost is crucial.
"Networks cost money, and lots of it. The rising operational costs of mobile networks coupled with revenue pressures faced by mobile operators, mean network optimisation techniques are key in ensuring that operators keep their networks efficient to avoid customer churn," he says.
Both external factors and internal configuration changes or addition of subscribers or traffic can continuously impact the network as well as the customer experience. Fady Younes, Client Director, Cisco, says that these elements weigh heavy on the shoulders of operators in the region.
"Real-time dynamic optimisation is critical as it ensures a high quality of the network, reduced drop calls, and therefore enhanced customer satisfaction, brand image, and reduced churn rate," he explains.
Optimisation tips?
With this in mind, one of the key elements for operators will be nailing optimisation techniques. The experts have laid out the crucial points.
"While optimisation is an ongoing process, it should not be done in a reactive mode. There should be a continuous proactive optimisation process supported by tools. Service providers should avoid optimisation in silos as the subsystems are all interlinked. Instead, a holistic end-to-end network optimisation approach should be driven to avoid creating a new issue while fixing one. Having a controlled environment with the right processes and tools in place is critical," says Younes.
"An exhaustive network optimisation should be viewed as the mandatory step before the services go live and should be repeated periodically. The old focus on drive tests and dropped calls should be augmented to include extensive data download and response time for real-time applications. Network operators should view a 'self-healing network' as the future of network optimisation," adds Verma.
Younes Abad, Head of Mobile Broadband Network Performance, Ericsson MEA, says that the two most important ingredients that need to be present in order to deliver expected results to the users are tools and methodologies, and people.
"Some key elements of success for operators are the advanced and sophisticated tools that allow as much automation as possible – like self-organising networks (SON)," he says.
With the complexity of the smartphone environment, average KPIs do not reflect the user anymore. KPIs were traditionally developed for voice, where customer expectation is clearly defined and quite predictable.
"Smartphone users' expectations are much more complex to define and very hard to predict now. The way KPIs are defined and measured sometimes do not keep up with the changes brought by smartphones. For example, KPIs are still network-centric instead of user-centric, and are domain-centric instead of end-to-end," Abad adds.
On the people front, he says that with the fast change in technology, it is important to continuously invest in competence to make sure resources are up to date. Incentives should be tailored in a way that encourages actions geared towards improving end-user experience instead of merely improving network KPIs.
The new customer demand
Above all, it's the influx of mobile applications and the availability to work extensively on a mobile platform which has changed the way a customer works and lives. As a result, the demands on operators and bandwidth providers have been completely intensified. Not half a decade ago, operators would not have predicted this paradigm shift into the mobile world – a world which is only growing as we speak. The demands will also continue to grow.
"The explosive growth of connected broadband, wireless devices and its usage have created a new bandwidth-demanding customer. Specific to the region where adoption of the latest gadgets is very quick, MNOs have been led to look for the best way to fine tune the network according to changing requirements," says Verma.
Osswald adds, "Customers no longer simply want coverage. Customers want a consistent service and a high quality of experience. The downside is they want to pay less for this, as it is becoming more of a commodity service."
And AlBalooshi concludes, saying that customer demand, up until around 2000, has mostly been voice- and messaging-centric. With the internet becoming an integral part of people's lives – be it for leisure or business – the customer demand changed into broadband internet.
"Whether it is via wireline service (DSL and Fibre), or via wireless service (3G and LTE). Mobility, along with broadband internet, became the latest trend in customer demand during the past five years, whereby people would like to be able to access all their favourite content or applications wherever they are. These trends have exerted increased pressure on mobile service providers to provide higher speeds and seamless experience," he says.
Without question, devices with the capabilities to support larger applications and a higher volume of applications will continue to surface in the market area. This tussle between app developers and bandwidth providers will shape the network landscape over the next few years.