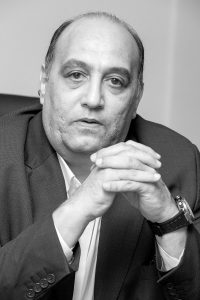 Hesham Tantawi, vice president, MENA, Asbis Middle East, reveals plans to become a one-stop-shop player for solutions across the technology spectrum.
Asbis Middle East has been in operations for almost 30 years, what is the next step for the firm?
We have been a strong IT distributor in the region and have grown even during challenging market circumstances over the years. The market will see our next phase from this year onwards. We are working towards becoming a one-stop-shop for enterprise, data centres, services, storage solutions and Internet of Things (IoT). We have been working towards this for the last two years. During the course of 2018, you will see us doing a major play around these arenas.
We will continue our focus on volume within these areas. The volume we are seeing in PCs and notebooks have been declining year-over-year. The growth is mainly going to be around solutions and consolidation.
What have been the two biggest milestones for the firm in 2017?
2017 was a challenging year for the channel business with issues around credit and finance. We were able to successfully overcome these challenges because we drove the business with knowledge, experience and relevance. We began developing our relationships with our partners last year and this gave us great strength.
Besides overcoming the credit and financial obstacles, we were also able to prepare our business for the implementation of value-added tax (VAT) from this month onwards. We worked towards developing the processes and educating our staff and stakeholders on its implications. While most players believe VAT will force the market to shrink, I am certain that it will make it much more stable. We have worked with our partners to help them become VAT ready.
How has your channel strategy evolved over the last few years?
Our channel strategy is simple – more 'partnerships' than just customer relationships. We depend on long-lasting relationships with our partners. Our aim is to continue serving them in the right areas and be the preferred partner of choice.
What are the technologies that the firm will be focusing on in 2018?
This year, our focus is on storage and storage solutions with hard drives. We are going to deploy the hard drives in the surveillance systems, data centres or in the servers or use it as a back up.
Our second focus area was to develop vendors such as Logitech where we have big partnerships with them for providing robust solutions for logistics, tier-1 partners and distributors.
In 2017, we have signed up with Logitech and QNAP.
Can you elaborate on plans for 2018?
We are looking to grow our portfolio in solutions this year. Partners can expect even more support from us over the course of this year.
How can partners grow their business and remain profitable in this era where everything is going digital?
Everything is going digital and into the cloud, however, customers, resellers and dealers need to focus on solutions. Because this is how they can serve the market efficiently and effectively. If they serve the market then the market will serve them as well by being stable and profitable. Partners need to identify the right solutions to focus on and then sell them. This is because today it is not about selling just a notebook but it is more about selling a complete solution, which includes servers, storage and a notebook. This is the right approach.
How can partners battle challenges such as credit issues and low margins?
Partners need to manage their inventories smartly. They should not buy a lot expecting that they will get best prices for the goods. Partners should avoid stocking, as that is a distributor's job. They need to sell and look at making consistent profits.
What kind of mantra should partners follow to put together the right solution?
They need to understand the customer requirement, identify the right solution that addresses the customers' challenge and implement it efficiently.
Which are some of the focus markets going forward?
Saudi Arabia is a primary focus market. Initiatives such as NEOM are great opportunities for us. Once the planning stage is completed, our job will begin. We see immense opportunities for infrastructure, servers, storage and smart solutions.
Egypt is another focus market for tenders and supply to governments and for big projects. Algeria and Tunisia are also main focus markets outside the GCC.
What do you believe are the chief factors to influence business in 2018?
The most crucial factor will be the political scenarios within the region. The implementation of VAT will be another factor to impact business this year. As it is a new initiative to the region, it will take time for customers to accept and understand the process.
How much growth are you looking to achieve in 2018?
We are expecting to grow by 20 percent this year and are confident to attain this through strong channel partnerships. We encourage all our partners to be focused in their approach, identify and compile compelling solutions and sell them profitably.