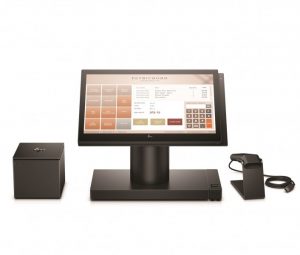 Ahead of the retail show NRF in New York, HP has expanded its retail solutions line for retailers by unveiling the white version of the all-in-one point-of-sale (POS) system, the HP ElitePOS.
According to the firm, the new colour comes in response to customer excitement about the streamlined design and performance of the HP ElitePOS announced this past August and requests for more color options.
"Retailers seek out technology that not only has the performance and versatility they need but complements and enhances their store environments. They want to deliver an experience that meets customer's increasing expectations for experiential shopping environments," said Natasja Andringa, business unit manager, Retail Solutions, EMEA, HP Inc. "Whether retail customers need to supplement their traditional point-of-sale system, or want to implement modern, sleek multi-function, or mobile systems, HP Retail Solutions has a product to fit nearly every need." 
The HP ElitePOS modernises the traditional retail experience for brands with security and performance built into its design, according to the company. Offered now in white or black, the HP ElitePOS can be customised with components such as an in-column printer, retail connectivity base, matching accessories such as barcode scanners, magnetic stripe readers, and customer facing displays to meet the retailer's needs while elevating the customer experience, said the firm.
The firm added that in order to deliver the "latest, fastest technology" for customers' systems, the HP RP9, the all-in-one, will soon offer the Kaby Lake processor.
"For more than 150 years, House of Fraser has provided shoppers with not only excellent service and premium products, but a wonderful in-store experience," said Julian Burnett, CIO, House of Fraser. "With the unmatched performance and elegant design of the HP ElitePOS, we're excited to be refreshing our look to deliver an even more exceptional shopping experience that connects to our entire brand experience."