How many neglected online shopping carts are a result of expensive shipping costs and lengthy delivery times?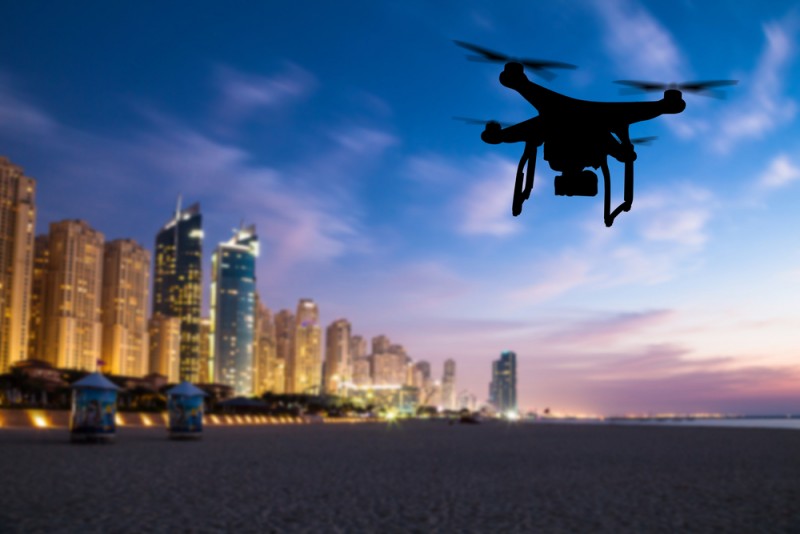 Eighty-six percent, according to management consulting group McKinsey & Group. That's a staggeringly high percentage, and one that should act as a sure-fire cause for retail firms to explore alternative methods of catering to the on-demand, low-cost needs of their customers.
Enter the era of drone deliveries. It's no secret that Amazon has already made progress in creating such an ecosystem via its Amazon Prime Air development centres in the United States, the United Kingdom, Austria, France and Israel, and is currently testing vehicles in multiple international locations.
Closer to home, Dubai-based startup Eniverse inked a partnership with Skycard and Fetchr late last year to help deliver the first autonomous drone delivery service in the region. It was said at the time that they will start with a soft launch to operate in specific areas of Dubai including Emirates Hills, The Meadows, The Springs, The Greens, and Jumeirah.
"Drone deliveries will be the norm in the very near future, and the UAE will be one of the first countries to implement this service," claims Rabih Bou Rashid, managing director of UAE-based Falcon Eye Drones. "But Amazon Air is still in its infancy with just a few successful proofs of concepts worldwide, and many more major companies are secretly developing these systems."
However, while federal regulators and industry officials seem adamant that Amazon's service may begin delivering packages via drone as early as this summer in the US, it seems D-Day for the Middle East is less certain.
Adam Lalani, group head of IT at Tristar, believes that while such a service is definitely possible in the region, he's "not sure it will be happening anytime soon."
"My two primary concerns are safety and standardisation. With autonomous drones, you can't have safety without a set of standards," he says.
He goes on to discuss how any successful mass adopted technology is governed by standards. "Take your pick; television and radio have broadcast standards to avoid interference, and computer networks have standards such as collision detection and avoidance so that different devices are able to communicate with each other. In the case of drones, think collisions."
There has to be a "tread carefully approach" to drone standardisation, he adds. "With mass production techniques, manufacturers can find ways to isolate and eradicate defects, and at the moment these are not mass produced on a scale that allows for high reliability."
Similarly, Rashid believes that there are "three ingredients" missing from this technology becoming a reality in the region, namely having a designated air space for drones, a dedicated traffic management system for unmanned aerial systems, as well as landing pads for deliveries. "Simply landing in people's backyards will not be a safe solution," he says.
But another key development that screams the potential for problems in the roll out of this technology is the need for drones to operate alongside a strong postal address system. The United Nations estimates that as many as 4 billion people around the globe live in places where there are no street names or numbers – something which UAE residents will undoubtedly be able to relate to. Few roads have street names, and directions are often based on major landmarks – even though many of these no longer exist or are known by multiple names.
"Telling a drone "second left, opposite the supermarket, near the roundabout" is not feasible, and is a recipe for disaster," says Lalani. "Until the proper roll out of postcodes is completed in the UAE and other parts of the GCC, drones will be completely reliant upon GPS co-ordinates."
These co-ordinates are currently accurate to a "few metres," claims Rashid. However, the adoption of high accuracy GNSS receivers could be a possible solution to ensuring drone landing can be narrowed down to a margin of just a few centimetres going forward, he believes.
So, if safety measures are standardised, and GPS locations are as accurate as can be, what more could hinder the implementation of drone-based delivery services in the UAE?
"With any airborne transportation, the biggest limiting factor is the mass that can be carried. You won't find drones delivering pianos anytime soon," says Lalani.
With the exception of Griff Aviation's Griff 300 – an 8-propeller design with a monster chassis and a payload of up to 800kg, the majority of drones have the capacity to carry up to 5kg of mass on any given journey.
"Low mass, small cubic volume items are ripe for drone deliveries. Credit card and chequebook deliveries are a good place to begin," says Lalani.
Having the ability avoid road congestion while assigning multiple delivery points in these scenarios makes for a very interesting business use-case, Lalani continues. "The likes of Aramex could quite easily double or triple the number of items on such a delivery run," he says.
According to a recent report by consulting firm Strategy&, the market for drones in the GCC is expected to reach $1.5 billion by 2022. Aside from utilising this technology for delivery purposes in e-commerce scenarios, the adoption of drones in other industries is now on the rise. Intel recently unveiled a drone designed specifically for industrial use-cases like construction site and field inspections, while the oil and gas sector are now using drones for rig safety and maintenance purposes.
"I think the first early wins for this technology will be firefighting, whereby drones can be used in areas that are either not safe for humans, or cannot be reached with conventional techniques," says Lalani.
The fire at Dubai's Address Downtown on New Years' Eve in 2015 would have been the "perfect use case," he says. "Fire engines were unable to reach the higher floors of the hotel, but a drone could have managed this quite easily."
Drone delivery services that fly food directly to a customer's doorstep are also generating a lot of promise. Australian and US residents have already feasted on drone-delivered burritos, and the UAE played host to Costa Coffee's 'Drone Drop' service late last year when the coffeehouse carried out its first delivery of coffee to beachgoers in Jumeirah via drones.
Uber also announced at its annual Uber Elevates conference last month that it is set to kick off trials of its own as part of a federally approved test to deliver food to consumers "within five minutes." Ten pilot programmes are set to take place around the US, with the data gathered set to inform new rules around the safety standards of drones into national airspace.